Drop Fitness Graces NJ with Unique 'Download-To-Join' Alternative to Fitness
Candace Cordelia Smith
Candace Cordelia is a Pennsylvania-based journalist and on-camera broadcaster/host, with…
The first of its kind, $8 million startup Drop Fitness is giving New Jersey natives and expats who've fled city life in search of a suburban reprieve, a way to workout on their own terms. Drop's "download-to-join" model allows customers to bask in an upscale environment, with the ability to pick and choose from a variety of classes and amenities, with affordable price points in store
As the world eases out of the COVID-19 pandemic back into a new reality, the fitness industry in turn continues to respond with innovative ways to serve athletes and casual gym goers. For the latter, who've since fled the streets of New York City for suburban life, a welcome treat known as Drop Fitness has emerged in NJ and it's poised to upend the traditional box gym industry model.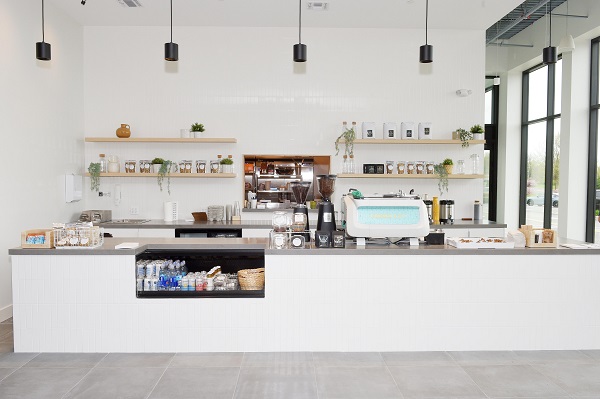 The "download-to-join" upscale gym comes complete with many enviable amenities, including a kids club and wellness café, along with cold plunge showers and locker rooms outfitted with saunas. In addition, its Montvale, New Jersey location is convenient for travelers who are based in New York.
Sharing an inside look at the groundbreaking launch of Drop Fitness in NJ, CEO and Founder Jeb Balise told Athletech News that the idea for the luxury gym was born from personal frustration in paying exorbitant gym membership fees himself.
"I asked myself the question, 'What would happen if you could drop your gym membership for an app?' Since I'd worked in the app industry, I wanted to create an app that members could download to join a gym and then pick and choose what they wanted and not necessarily charge a membership fee upfront," says Balise.
With the inclusion of not just choosing from personal training, fitness classes, but also in retail and childcare options, Drop Fitness aims to empower customers with the ability to select their own fitness and lifestyle experience.
From the moment patrons of Drop Fitness download its app, they are provided with a free week of unlimited classes and unlimited cardio and weights. Even if one decides to opt out of ever spending another dime at the facility, Balise promises it's of no worry to the brand. Unlike other fitness gyms, Drop Fitness customers won't ever have to fret over uncomfortable membership cancellation calls, and can always drop back into the community whenever desired. 
"By having the app you are still a member. We can still reach out to you…. you really are a member of our community whether you've spent a dime or not," says Balise. "What we anticipate really is that the community will appreciate the idea that they didn't have to speak to a salesperson and that they're in control right off the bat. We're shifting the control to the customer as soon as you download that app."
Drop Fitness visitors can also expect to get a good sweat session courtesy of boutique fitness brands which include Humming Puppy, Mile High Run Club, PHYSIQUE57 and Fhitting Room.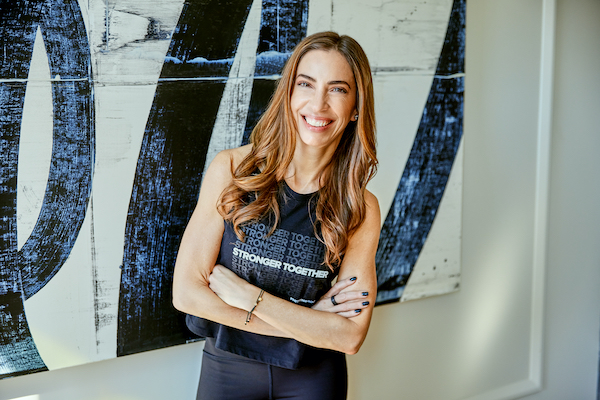 Fhitting Room CEO and Founder Kari Saitowitz, who calls Balise's download-to-join idea behind Drop Fitness "super exciting," says she "fell in love with the concept before it actually even included branded boutique studios."
"As the concept evolved, Jeb decided to partner with existing boutique concepts to bring under the roof, rather than running their own group fitness rooms and I was so thrilled, because this space is gorgeous," Saitowitz adds.
For Saitowitz, the journey from traveling to Montvale from the Upper East Side clocks in at around 45 minutes. But the commute for both the business leader and her clients is worth it for a number of reasons. "People who take class here have access to the whole facility, so there are things that clients have asked for in the city that are at Drop, including a smoothie bar, coffee bar, kids club. There's a sauna and a cold plunge shower in the locker rooms. And of course there's the other studio partners and the open gym floor. So it's quite a treat."
Saitowitz adds that the Montvale, NJ location itself "makes perfect sense" for Fhitting Room and, furthermore believes that the Drop model ("the notion of being able to, for the community, have this gorgeous facility where they're simply downloading an app to join and then taking the amenities and services they want to engage in") is undeniable." What we're trying to do is put fitness where people want it, when they want it, how they want to consume it."
For both Balise and Saitowitz, there's hope for making sure that Drop's Montvale location becomes enough of a success in which expansion becomes a reality. Balise, who resides in Connecticut, would love to see a Drop Fitness building in the state. But, his focus for right now is making sure Montvale clients have an "experience like no other." "The way I look at it is we're going to be opportunistic. What we're focused on is trying to strike the right deals with the REITs of the world to do multiple locations at once," he states.
Saitowitz, who was already in talks with her team pre-pandemic in regards to finding ways to expand Fhitting Room, sees her collaboration with Drop Fitness as a win-win scenario for both parties. There's both a possibility of partnering in other Drop Fitness locations and for new Fhitting Room clients based in NJ to discover its on-demand subscription base platform.
"This type of partnership where somebody's putting together a beautiful facility and we can partner to deliver what we do best, which is really a phenomenal, functional high-intensity training class and kettlebells, then that's absolutely the way that we're looking to expand the brand… I think there's a lot of opportunity."
This article has been edited to reflect that the patrons will continue to be provided with a free week of unlimited classes and unlimited cardio and weights. A previous version of this article stated one free personal training session and one free café item will also be provided. Moreover, this article now has relevant images. The previously featured photo was by CATHY PHAM on Unsplash.
Candace Cordelia Smith
Candace Cordelia is a Pennsylvania-based journalist and on-camera broadcaster/host, with a reporting background in wrestling, entertainment, and lifestyle. Her reporting work has been featured on websites and in publications such as Bustle, Pro Wrestling Illustrated, New York Daily News, am New York, ABC News, Yahoo!, Good Morning America, Madame Noire, Sister 2 Sister, etonline.com, Diva Dirt and The Everyday Fan. Her favorite workout influencers include Chloe Ting, Cassey Ho, Pamela Reif and Mary Braun. She still can't stand burpees and Rebbl Dark Chocolate Immunity Elixir is one of her favorite post-workout protein sips. You can follow Candace on Twitter @CandaceCordelia and on Instagram @thatgirlcandace16.