Adidas Joins Nike in the Metaverse & Generates $23 Million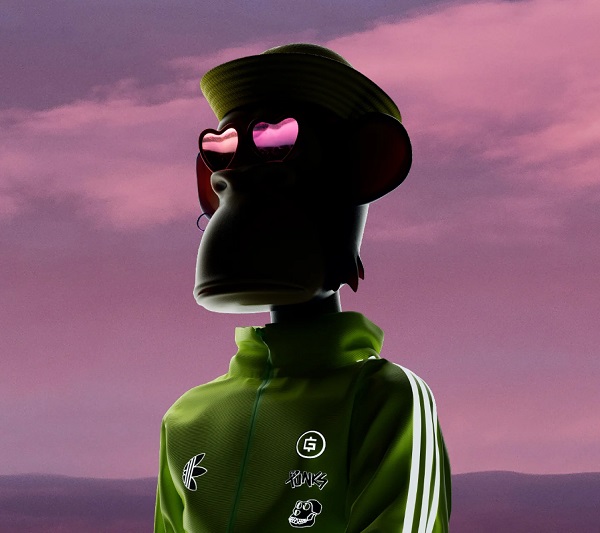 The limited four-way collab is now sold out & Adidas teases future NFTs
Adidas is ending 2021 with a jump into the metaverse – and generated a cool $23 million with its first drop. The apparel company quickly made millions in Ethereum, despite hitting some technical snags as it offered its NFT collection, Into the Metaverse.
Earlier this month, Adidas announced its collaboration on Twitter: "Today we leap Into The Metaverse with @BoredApeYC, @gmoneyNFT & @punkscomic. It's time to enter a world of limitless possibilities." The limited edition collaboration quickly sold out.
Adidas celebrated the news with a profile picture of an Adidas-inspired Bored Ape Yacht Club #8774, which sold for 46 ether or $156K. The image depicts an unimpressed ape with heart-shaped sunglasses and a yellow Adidas jacket. The ape is referred to as Indigo Herze, a "rebellious optimist who sees the world through heart eyes. They are community focused – one of us – and excited to represent Adidas in the swamp club," Adidas shares on its site. Adidas says Indigo Herze is a "sign of what's to come."
One perk for purchasers is that they will have access to tangible merchandise in the new year, including a Firebird tracksuit, graphic hoodie, and a gmoney orange beanie. The merchandise can be obtained during product redemption windows. Adidas says holders will also be able to participate in virtual events in the metaverse in 2022 and beyond.
The metaverse is anticipated to become crowded, as companies can have a new avenue of success, brand awareness, and monetization. Nike recently acquired RTFKT, a digital fashion start-up, as Nike makes moves to invest in a digital footprint. Nike launched Nikeland, its own space in the metaverse inspired by the company's Beaverton, Oregon headquarters. More brands are seeing the power of digital fashion and collaboration, like luxury fitness gym Dogpound and fashion brand Balmain teaming up to create sneakers and NFTs.
For those who missed the Into the Metaverse NFT, Adidas says interested collectors can purchase an NFT on the secondary market, like Opensea. The apparel company says that fans should look to CONFIRMED, its app, for "a chance to cop future NFT drops" as the company voyages into the metaverse. "Those who minted: welcome. Those who tried: we see you. And to those who believe impossible is nothing: you fuel us. This NFT drop is the beginning of Into the Metaverse, not the end. We have more in store to share in the new year," Adidas assures.
Courtney Rehfeldt
Courtney Rehfeldt has worked in the broadcasting media industry since 2007 and has freelanced since 2012. Her work has been featured in Age of Awareness, Times Beacon Record, The New York Times, and she has an upcoming piece in Slate. She studied yoga & meditation under Beryl Bender Birch at The Hard & The Soft Yoga Institute. She enjoys hiking, being outdoors, and is an avid reader. Courtney has a BA in Media & Communications studies.