Nike Introduces Nikeland, Entering the Metaverse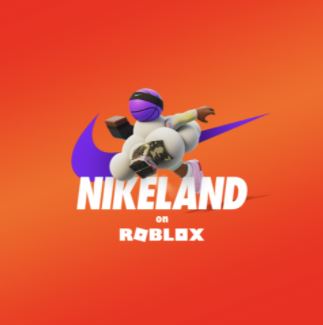 The sportswear titan sees a path to profits with digital Nike merchandise
Nike has set up shop in the metaverse with Nikeland, inspired by the company's Beaverton, Oregon headquarters. The footwear and apparel company has joined forces with the Roblox online gaming platform, allowing users to have an immersive experience. Teaming up with Roblox, which has over 40 million daily active users, gives Nike an audience of players where roughly 65% are under the age of 16. The gaming platform went public this year with a $41 billion valuation.
"Welcome to Nikeland, where sport has no rules. Tag on trampolines? Why not. Floor is lava with a dash of parkour? Let's go. Explore the world of sport, swim in Lake Nike, race your friends on the track, and discover hidden secrets!" is the greeting visitors receive when logging on to Nike's headquarters in the metaverse. Visiting Nike's new world on Roblox is free, but the company hopes that Nikeland can eventually convert digital visitors to digital consumers. New players receive two free launch items and will be given free promo codes.
The colorful Nikeland is home to various buildings, fields, and areas where players can compete in games like The Floor is Lava, dodgeball, and tag. If those games don't seem appealing, users can explore the Nikeland tool kit and create mini-games. Nike maintains committed towards active lifestyles and says that Nikeland will allow players to get moving. Users can take advantage of the accelerometers in their devices to make moves in the metaverse, like long jumps or speed runs, by holding their device and moving. Nike says players will be rewarded with ribbons and medals for competing, building, exploring, and finding Easter eggs. The coveted gold medals will unlock virtual products.
Avatars can swing by the Nike showroom and become decked out in Nike apparel. Virtual shoppers can select classics like Air Force 1 and the Nike Blazer for their avatar or pick a newer style like Air Force 1 Fontanka or Air Max 2021. Visiting the showroom will give users an inside peek at exclusive upcoming launches of Nike merchandise.
The athletic wear titan has been preparing for the metaverse and is planning to incorporate the World Cup or the Super Bowl in Nikeland. Nike had recently filed trademark applications, including its traditional swoosh logo and logos for Air Jordan and Jumpman, as well as "Nike" and "Just Do It." Nike indicated in its filing that it wanted to make and sell virtual sneakers and apparel.
Nike has been exploring immersive concepts with unique retail locations, like Nike Rise. The futuristic retail stores have high-tech features like real-time running stats from local runners and interactive RFID tables for merchandise comparison.
While metaverses may have initially seemed like a frivolous pastime for children, businesses are seeing dollar signs. Brands are investing in virtual words to have a presence and reach consumers in a new way. Roblox in particular offers access to tech-savvy young fans who spend a considerable amount of money on Robux, which is the currency of Roblox. The NFL even got into the Roblox game, recently opening a virtual store where players can purchase official football helmets and jerseys. 
Nike's presence in the metaverse may be more secure than in reality, as the company is facing unavoidable supply chain issues. One sneaker store received a notification from Nike that orders have been cancelled.
"COVID-19 continues to impact the global supply chain and create transportation disturbances. As a result of this dynamic and unprecedented situation, we regret to inform you that Nike Future orders in (Spring 2022, Summer 2022), and the balance of (Holiday Season 2021) will be canceled," Nike reportedly emailed.
This month, Nike will host Nikeland at NYC House of Innovation with a special Snapchat lens. Guests visiting the kid's floor will be able to discover an augmented reality version of Nikeland.
Courtney Rehfeldt
Courtney Rehfeldt has worked in the broadcasting media industry since 2007 and has freelanced since 2012. Her work has been featured in Age of Awareness, Times Beacon Record, The New York Times, and she has an upcoming piece in Slate. She studied yoga & meditation under Beryl Bender Birch at The Hard & The Soft Yoga Institute. She enjoys hiking, being outdoors, and is an avid reader. Courtney has a BA in Media & Communications studies.