Time to Walk by Apple Fitness+ is Walking with Celebs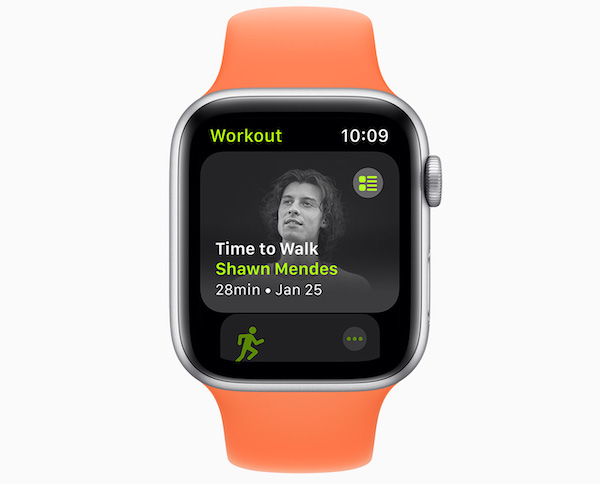 Each week, Apple's Fitness+ will release a new chat with a famous person designed to enhance short walks. Dolly Parton, Uzo Aduba, Draymond Green and Shawn Mendes are in the first slate of monologues.

Fitness+, Apple's six-week-old subscription service of video and audio content for workouts, has unveiled a novel idea. Every week, subscribers can hear the prerecorded musings of a celebrity as they walk, via a program called Time to Walk, attempting to create the effect of taking a stroll with some famous, supposedly interesting person.
Ever want to hear lessons taken from adversity and a story about motherly encouragement from Golden State Warriors power forward Draymond Green while heading out to the corner bodega for seltzer water, cereal and paper towels? For the $9.99 per month or $79.99 per year Apple charges for Fitness+-, now you can with Time to Walk.
Green is one of three stars in the first round of recordings. There is also ageless country star Dolly Parton, baby-faced platinum singer/songwriter Shawn Mendes and actress Uzo Aduba, best known for playing Suzanne "Crazy Eyes" Warren on Netflix's Orange Is the New Black. In the future, new Time to Walk monologues will be uploaded every Monday.
The chats are peppered with sound effects and song snippets. Parton talks about growing up with her 11 siblings in the Great Smoky Mountains of Tennessee as birds chirp in the background. (Fans have heard Parton ruminate on this experience in conversation and song since "Coat of Many Colors" charted in 1971.) As she taps acrylic nails, she moves on to the inspiration behind her 1980 chart-topper "9 to 5," which of course transitions to a bit of the song.
Mendes talks about taking a slower pace in life, and Aduba gives her thoughts on faith, lifelong relationships and the value of a good dog walk. The Time to Walk content will be automatically downloaded into the libraries of Fitness+ users.
It's a far cry from the high-octane workouts subscribers have come to expect from paid fitness apps, but for a new service vying not just for customers but for attention amid all of the channels being launched, the move is somewhat brilliant. Word about the feature, and with it Fitness+, will move through every guest star's fan base once a new episode is uploaded. Plus, as one of the world's largest tech companies, Apple has a reach and an ability to grab big names with which startups cannot compete. The company has created a category only they can rule.
We will see if this unconventional fitness content catches on. Maybe, through these days of grey skies and mid-pandemic motivation and focus fatigue, a brief monologue from a singer will be enough to get you off the couch.
Nick Keppler
Nick Keppler is a freelance journalist, writer and editor. He enjoys writing the difficult stories, the ones that make him pore over studies, talk about subjects that make people uncomfortable, and explain concepts that have taken years to develop. Nick has written extensively about psychology, healthcare, and public policy for national publications and for those locally- based in Pittsburgh. In addition to Athletech News, Nick has written for The Washington Post, The Daily Beast, Vice, Slate, Reuters, CityLab, Men's Health, The Gizmodo Media Group, The Financial Times, Mental Floss, The Village Voice and AlterNet. His journalistic heroes include Jon Ronson, Jon Krakauer and Norah Vincent.