Inside Orangetheory's New Strength Training Class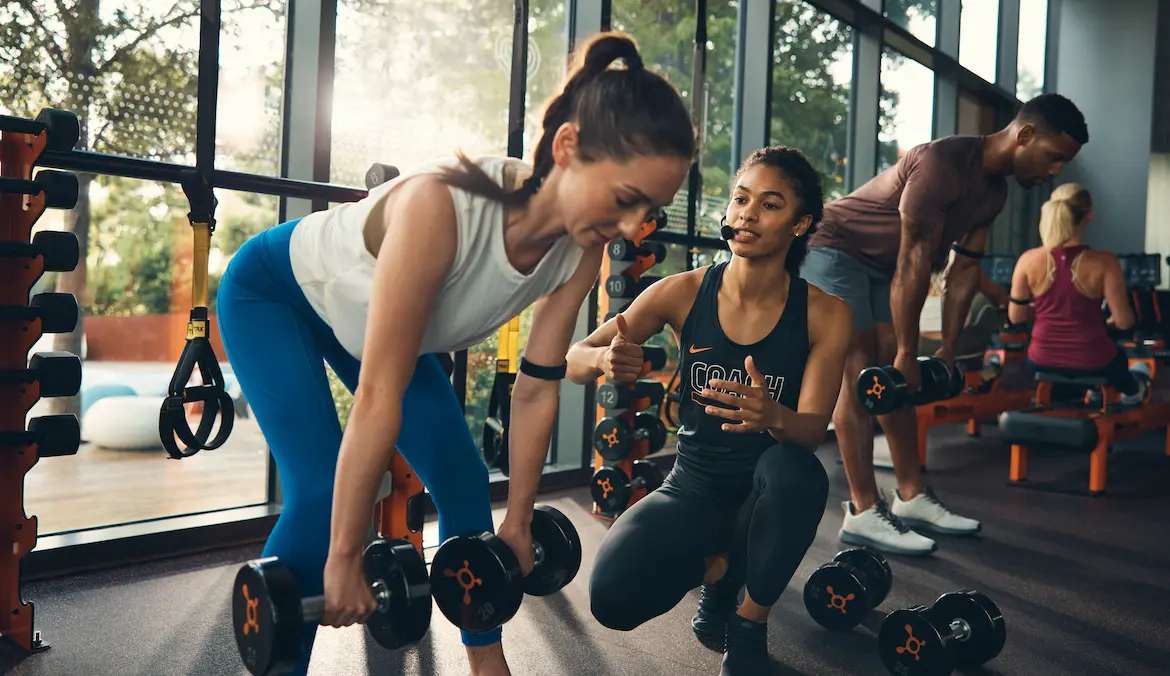 credit: Orangetheory Fitness
Orangetheory's VP of Fitness spoke with Athletech News about why the boutique fitness player is fully embracing the rise of strength training
Orangetheory Fitness has launched Strength 50, a new class focused on physical and mental strength, a departure from the boutique fitness brand's usual cardio-focused offerings.
Orangetheory's vice president of fitness, Scott Brown, told Athletech News that the company recognized the growing demand for more focused strength training and and saw an opportunity to provide members with a holistic fitness experience. The Strength 50 class emerged after rigorous beta testing.
"With nearly 10,000 members waitlisted over the course of just three months and with 66% of our members naming strength training as one of their preferred fitness formats, we determined it was the right moment to roll out Strength 50," Brown told ATN.
This 50-minute class caters to all fitness levels and is divided into three segments: total body, upper body and lower body. Workouts include exercises with dumbbells like rows and squats, TRX suspension trainers, and bodyweight routines.
By integrating this strength-focused offering with Orangetheory's well-established heart rate zone training, members can now embrace a fully-rounded fitness regimen, aligning with the recommended weekly guidelines for adult physical activity set by leading health organizations such as the AHA, CDC and ACSM.
"The importance of strength training cannot be overstated in the pursuit of a balanced fitness routine, and at Orangetheory, we believe in its power to transform not just bodies but lives," Brown said.
Although Orangetheory has generally been regarded as a company focused on anaerobic activity, Strength 50 demonstrates the company's well-rounded approach to fitness.
"Orangetheory has always been committed to delivering our members the best and most comprehensive fitness experiences," Brown says. "While our Orange 60 classes—which include a significant strength training element—offer exceptional anaerobic training, we saw an opportunity to delve deeper into strength and resistance training with this new Strength 50 class. It is uniquely tailored to focus entirely on strength."
The fitness industry as a whole is experiencing a noticeable shift towards emphasizing pure strength training. From 2021 to 2022, strength training was the top workout trend on platforms like Mindbody and ClassPass, securing its place as the fourth most popular trend in 2022. This shift aligns with Orangetheory's "Long May We Gain" pledge, which challenged industry norms by highlighting the diverse benefits of exercise rather than focusing solely on weight loss.
"As knowledge and understanding continue to advance, several myths are also being debunked, such as the belief that strength training inherently makes one bulky or that engaging in cardio necessarily undermines muscle gains," Brown notes.
"The current era of fitness is about embracing a comprehensive, evidence-based approach to health and well-being, so that's what we embraced here, too," he adds.
To celebrate the launch of Strength 50 and promote the "Long May We Gain" pledge, Orangetheory has partnered with self-love influencer and body-positive advocate, Danae Mercer Ricci. Together, Orangetheory and Ricci encourage individuals to share their "gain goals" on social media using the #LongMayWeGain hashtag.
Additionally, on National Weightlifting Day, September 23, participating Orangetheory studios worldwide will host "Gain Day" featuring free Strength 50 classes for new and existing members.