Life Time Refinances Loan, Makes Progress on Sale-Leaseback Goal
The luxury wellness club operator recently revealed its Q1 2023 earnings, beating Wall Street's expectations with a 30% revenue increase
Life Time Fitness has completed the refinancing of its $274 million Term Loan B facility, the company announced.
In addition to extending the maturity to Jan. 15, 2026, the luxury athletic country club operator said it increased the facility to $310 million as a "result of strong demand."
Life Time says it will use the incremental net proceeds to repay in full the outstanding balance on its $475 million revolver and for general corporate purposes.
Earlier this month, the lifestyle wellness operator announced that S&P Global Ratings had upgraded its issuer credit rating to a B from a B-, citing improving performance in terms of membership, revenue and EBITDA trends in addition to steps that Life Time is taking to improve its balance sheet and reduce leverage.
The fitness and health operator recently released its Q1 earnings for 2023, beating Wall Street's expectations, which led to shares of Life Time popping in response
Life Time reported net center memberships were up nearly 40,000 in Q1, and revenue increased 30% from Q1 of 2022. The spike in membership is expected to last through the summer months, according to founder and CEO Bahram Akradi.
The fitness operator has had success with its pricing strategy adjustments and initiatives such as ARORA, an active aging program, as well as its dynamic personal training, small group training and its rollout of pickleball, which Life Time credits for its increased traffic and revenue.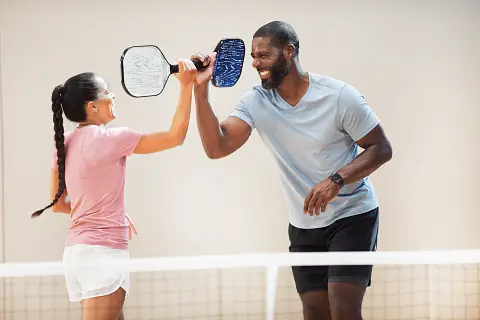 Life Time making progress on sale-leaseback deals
Life Time has also signed letters of intent for the sale-leaseback of three properties in transactions totaling approximately $123 million, a move designed to bolster its position. 
The luxury club operator closed on the first transaction for $33 million in March and recently announced it closed on a sale-leaseback for approximately $45 million in April, which involved one property with an institutional real estate investor who has completed multiple sale-leaseback transactions with the fitness operator. 
There is also a pending transaction for a third property, which is under construction, and is expected to be completed by the end of September for approximately $45 million.
Last month, Life Time said it's well-positioned and on track to complete $300 million in sale-leaseback transactions this year, the proceeds of which will be utilized for new growth opportunities and to strengthen the company's balance sheet.
This summer, the company plans to open a posh five-story living complex adjacent to a Life Time Athletic Country Club, creating a healthy living village dubbed "Live Time Living," in Burlington, Massachusetts. The complex offers residents an opportunity to fully immerse themselves in a premium-level healthy lifestyle, complete with a resident concierge program with weekly meal prep delivery, personal training, wake-up calls, nutrition coaches and massage therapists.
Courtney Rehfeldt
Courtney Rehfeldt has worked in the broadcasting media industry since 2007 and has freelanced since 2012. Her work has been featured in Age of Awareness, Times Beacon Record, The New York Times, and she has an upcoming piece in Slate. She studied yoga & meditation under Beryl Bender Birch at The Hard & The Soft Yoga Institute. She enjoys hiking, being outdoors, and is an avid reader. Courtney has a BA in Media & Communications studies.