IHRSA, Fitness Industry Continue Push for PHIT Act Passage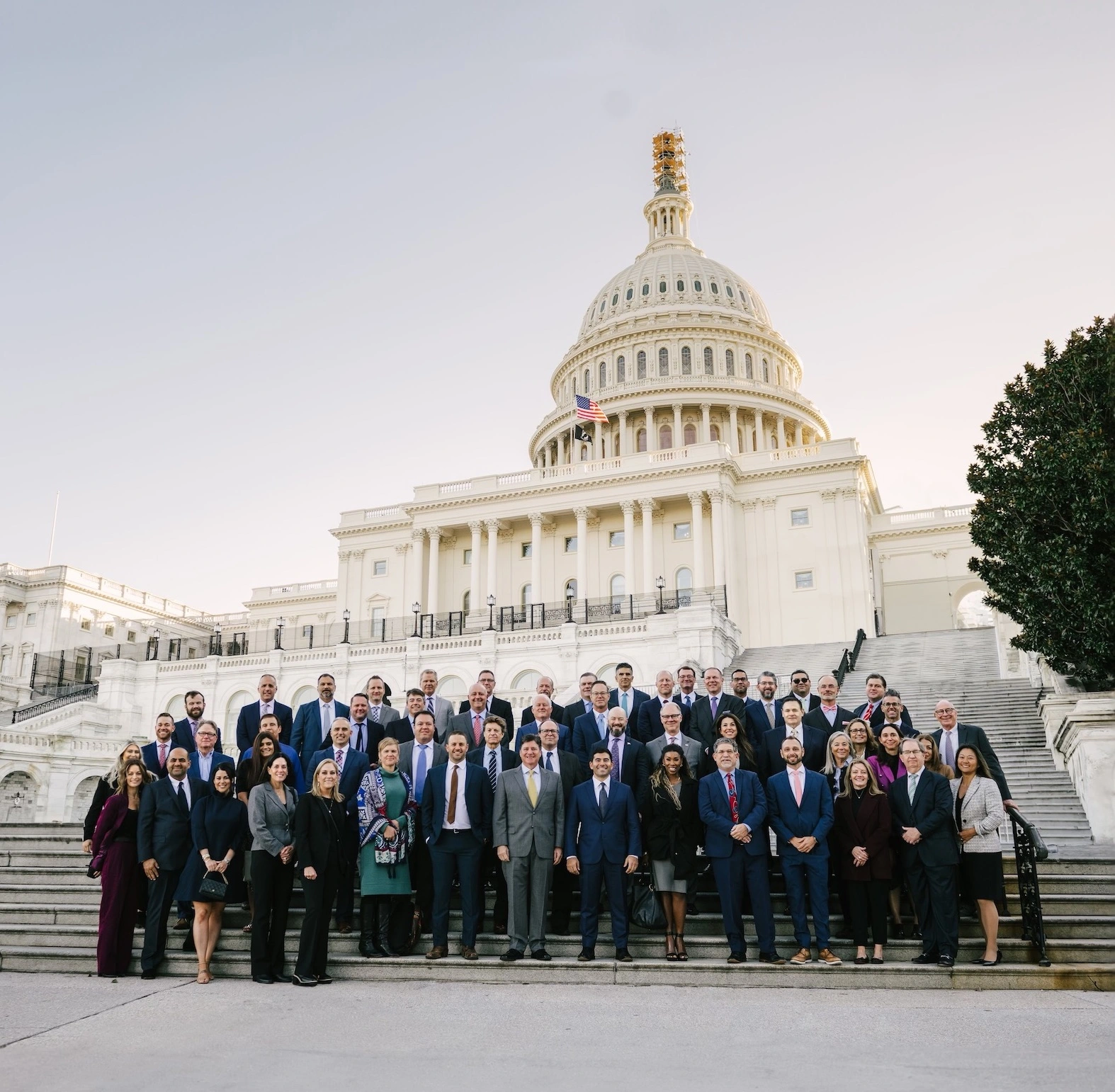 credit: The Fitness Technology Summit
Fitness industry leaders including top CEOs traveled to Washington to fight for what they view as essential legislation
IHRSA staged its second Fly-In & Advocacy Summit in Washington, D.C., on Monday as the fitness industry continues its fight for better legislation.
Held in partnership with The Fitness Technology Summit, the IHRSA event saw over 60 fitness industry leaders descend collectively on Capitol Hill to encourage members of Congress to support the Personal Health Investment Today (PHIT) Act, which would allow Americans to use pre-tax money on healthy living activities like gym memberships, youth sports and fitness equipment. 
"More than 60 conference attendees and IHRSA members met on Capitol Hill with representatives, senators, and key staff members to deliver a unified message: The health and fitness industry is at the forefront of helping consumers improve physical and mental health, and by passing the PHIT Act, Congress can take a huge step to deliver this benefit to millions of families," said Liz Clark, IHRSA president & CEO.
PHIT has received some bipartisan support already – the bill has 57 co-sponsors in the House of Representatives and 17 in the Senate, with a roughly equal number of Democrats and Republicans – but a significant amount of work remains to be done to move it into law.
During Monday's event, which follows a previous IHRSA Fly-In & Advocacy Summit held this past May, fitness industry leaders broke up into smaller groups to meet with a specifically targeted selection of 60 legislators, those who've yet to throw their support behind the bill.
"We did not meet with anybody who currently supports the bill," Mike Goscinski, vice president of government affairs for IHRSA, told Athletech News after the event. "Everyone we met with today was to cultivate a relationship and build a new supporter for the legislation."
The IHRSA Fly-In group consisted primarily of CEOs and other C-suite executives of some of the top health and fitness companies in the U.S., including 24 Hour Fitness CEO Karl Sanft, ABC Fitness CEO Bill Davis, Muv Brands CEO Joel Tallman, Chuze Fitness CEO Cory Brightwell, and Chelsea Piers senior vice president Greta Wagner. Other big-name brands in attendance included Crunch Fitness and Gold's Gym.
"It's the industry speaking with one unified voice," Goscinski said of why the Fly-In is significant beyond just driving support for the PHIT Act. "That is a powerful, powerful tool."
If passed, the PHIT Act would amend the IRS code to treat physical activity as preventive healthcare covered by allowable FSA/HSA spending, similar to items such as glasses and wellness-related over-the-counter products. It would allow individuals to use up to $1,000 per year and up to $2,000 for families for physical activity-related expenses.
Proponents of PHIT say the bill is an important and long-overdue step in ensuring that fitness becomes more economically accessible for American families.
"We rarely hear people who disagree with the fact that physical activity should be accessible by all, and allowing Americans to use their hard-earned dollars towards preventative health measures through physical activity is something that continues to get support," Goscinski said "It's just a matter of finding the right way to get it across the finish line."
While there might be reluctance on the part of some lawmakers to pass a bill that would cut down on certain tax revenues, Goscinski notes FSA and HSA funds have long been used for things like over-the-counter drugs. Pre-tax funds are also becoming increasingly accepted as a means of payment for consumer-oriented fitness and wellness products. Hyperice, for example, now accepts HSA and FSA funds for its massage guns and other high-tech recovery products.
"I don't think at the end of the day if Americans were able to have tax-free access to fitness and health clubs, that they would stop spending money on band-aids or Tylenol and Advil," Goscinski said. "What I do think, though, is the amount of people who become pre-diabetic and are putting a strain on the healthcare system and a financial strain on the United States government and the taxpayer will (decrease)."
Al Noshirvani, who founded The Fitness Technology Summit and also owns Fitness Club Management, which operates health clubs across the Northeast, noted that fitness is an effective form of preventative medicine, so PHIT would likely save money on healthcare costs in the long run.
"One of the data points that we shared with the legislative folks that we met with was that for every dollar of preventive medicine that is spent on things like physical activity, that results in a $3 savings in long-term sick care," Noshirvani told ATN. "It's a big number (in total), so this is a very defensible bill from a spending perspective, which is typically the pushback that you get on this bill."
While PHIT may seem like a common-sense solution in America's fight against rising obesity rates and healthcare costs, things are rarely that straightforward in Washington.
Originally introduced in 2018, PHIT was passed by the House of Representatives but Congress adjourned before the Senate could vote on the bill. In March 2023, Representative Mike Kelly (R-Pa.) and Senator John Thune (R-S.D.) reintroduced PHIT in the House and Senate. Representative Jimmy Panetta (D-Calif.) and Senator Chris Murphy (D-Conn.) have supported the bill, giving it a bipartisan base.
While the PHIT Act is just one component of a larger "package" of legislation and policies IHRSA and its members are hoping to push through to make physical activity more affordable and accessible for Americans, Goscinski says the organization's main focus right now is on getting the bill past the finish line.
"Right now it's something we see as a huge opportunity to get passed and that we have a great shot at doing this year," he said.
If you're interested in joining the fight to pass the PHIT Act, click here to send a message to your elected official