How Fitness Franchises Can Craft a Winning PR Strategy
Partnership
Sponsored By Dunn Pellier Media
August 3, 2023
credit: Xponential Fitness
Partnership
Sponsored By Dunn Pellier Media
Nicole Dunn, CEO of Dunn Pellier Media, shares how fitness franchise brands can master the art of earning positive media coverage
In today's age of social media and instant advertising, PR often gets the short end of the stick in the marketing mix of companies, including those in the fitness franchising space. That may be a costly mistake though, both for fitness brands and their franchisees.
For fitness franchises, investing the time and resources necessary to build an effective PR strategy usually pays dividends in the long run: a 2014 Nielsen study showed that PR was 90% more effective than advertising in influencing consumers.
Statistics have also shown that compared to traditional forms of marketing, PR can be more beneficial for brands in building trust, enhancing credibility, increasing organic reach and building long-term brand recognition, according to research aggregated by Society 22 PR. For those reasons, PR is often more cost-effective than advertising.
Nicole Dunn, CEO of Dunn Pellier Media, a Health & Wellness PR Agency that's worked with top franchises including Club Pilates, Orangetheory Fitness, F45 Training and Perspire Sauna Studio, spoke with Athletech News about how fitness franchises can build a winning PR strategy and the business benefits of doing so.
Hire a PR Firm That Specializes in Fitness & Wellness
For fitness franchises looking to reap the brand-building benefits of good press, it's best to hire a PR firm that knows the space intimately. This has many benefits, including getting an expert's take on which PR strategy to pursue in the first place.
Dunn notes that for some fitness franchises, it makes sense to target national media outlets. For others, seeking coverage in B2B publications will be more beneficial.
When Dunn Pellier Media was working with Club Pilates, the PR firm got the Pilates franchisor a spot on "Extra," the popular celebrity news show filmed in Hollywood.
"We actually brought reformers to the Universal Studios set," Dunn recalls of the spot, which aired in early 2017 and featured Extra host Charissa Thompson doing a Pilates workout on-air. "It was just great for the brand."
A national TV spot made sense for a big brand like Club Pilates, which was going for a more direct-to-consumer play with its PR.
For Perspire Sauna, a rapidly growing franchisor of infrared and red-light therapy studios, the Dunn Pellier Media team pursued a B2B approach that included placements in franchise-focused publications. The idea was to get Perspire's name out there to potential franchisees.
"It wasn't all the splash and gold and Hollywood," Dunn says. "They used us instead to set a presence and build awareness and visibility for the brand."
Whether it's getting featured on national TV or generating a solid reputation in the industry, at the end of the day, PR, like almost everything else in business, is about relationships.
"We have a competitive advantage over other PR firms because we're in this space," Dunn says of her firm's fitness, health and wellness expertise. "We know the players, we know the people and we know the brands. We also have relationships with all these media outlets because we've been doing PR for 17 years."
Tell Good Stories To Drive Media Interest
The process of getting your brand covered in top media outlets – whether TV, online or in print – may seem shrouded in mystery, but a large part of it comes down to having a good story to tell.
According to Dunn, fitness franchises whose founders have compelling backstories about why they started the brand tend to pique the media's interest. Dunn mentioned Anne Mahlum, the founder of Solidcore, and Mahlum's story about being so enthralled with her first Pilates class back in 2013 that she decided to start her own boutique fitness concept based on the modality.
Fitness franchises can also leverage "before and after" testimonials from customers, like a member that lost a bunch of weight or transformed their body by doing a certain workout style.
"The media loves those kinds of stories," Dunn notes.
Fitness franchises should also think long and hard about creating a concept truly actually innovative, and then craft a compelling narrative about what makes them new and different from their competitors. That's tough to pull off, but it's a surefire way to drum up media interest.
"We've all done the same old Pilates workout or the same old HIIT workout," Dunn says. "What's something that's new and inventive? How are people doing well utilizing this program? The media looks for that."
Fitness franchises should also take advantage of seasonal opportunities to tell interesting stories. Themes like New Year's resolutions and getting your ideal body in time for the summer are common themes that media outlets look for year after year.
"It's a regurgitation of the holidays, but as a PR player, you figure out how to make it exciting," Dunn says.
Find a Spokesperson
Media outlets are after clicks, views and ratings, so finding a celebrity or an otherwise engaging spokesperson to tell your brand's story is vital.
Dunn Pellier Media helped position Mark Wahlberg as the face of F45 and the brand's functional training workouts. While F45 has experienced some financial difficulties as of late, the franchise exploded onto the scene several years ago, thanks in large part to Wahlberg's constant promotion. In a testament to the long-lasting effects of positive PR, F45 still maintains a flock of loyal fans despite its recent troubles.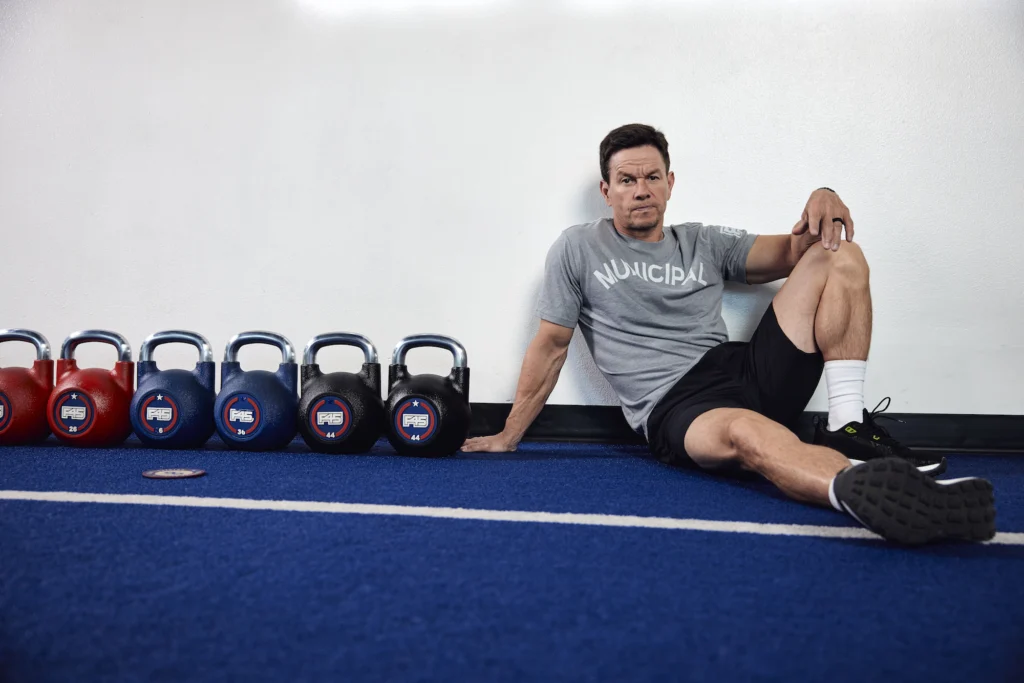 Dunn Pellier Media also worked with an Orangetheory franchisee in Los Angeles to secure TV segments featuring Britney Spears, who had attended the boutique fitness studio's locations in Southern California. Orangetheory was even featured in Spears' 2016 music video for the song "Make Me."
"Aligning yourself with somebody that can speak to the masses is always good," Dunn says.
For fitness franchises, finding celebrities is great, but a brand spokesperson can come from within a company as well.
Some brands find success in positioning their CEO as a thought leader and educator. During its work with Les Mills, Dunn Pellier Media helped grow the profile of Sean Turner, CEO of Les Mills US, getting Turner interviews in leading industry publications.
The executive-as-a-thought-leader approach works particularly well for a brand like Les Mills; since the group fitness company licenses its workouts to gyms across the world, a B2B approach makes sense.
On the direct-to-consumer side, fitness franchises can leverage personal trainers or instructors who have big personalities. Dunn mentioned Stacey Zielinski, a trainer at AKT, Xponential's dance-inspired fitness brand, as the type of energetic and engaging personality that's tailor-made for media.
"She's awesome on camera, she's smiling and she's happy, she just kills it," Dunn says of Zielinski. "Brands can utilize someone like that."
Create a PR Playbook for Franchisees
Fitness franchises make painstaking efforts to give their franchisees all the tools they need for success on the business side. However, they sometimes overlook the PR part of the equation.
"A lot of franchises don't pay enough attention to instructing and teaching their franchisees how to build a media portfolio," Dunn believes.
Dunn encourages fitness franchises to create a "PR playbook" for their franchisees to equip them with a solid understanding of how to manage media endeavors. A playbook should include things like how to pitch stories to the media, what kinds of stories resonate with the media and which parts of the brand a franchisee should focus on while doing interviews.
"It's just the basic training of what PR is, how it's going to help you and how you use it," Dunn says, noting that Dunn Pellier Media has helped companies create PR playbooks.
For example, franchisees often need help figuring out which types of events and announcements warrant a press release and which ones aren't worth the trouble.
"If you're doing a special event like raising money for the community at your location, that could be news," Dunn says by way of example. "But on the other hand, people come up with these ideas that just aren't newsworthy, and it's a waste of everyone's time."

Having a PR playbook for franchisees can pay off, especially in smaller markets that a parent brand might not target with its own company-wide PR efforts.
"They always have key locations that do the PR in places like LA, New York, or Seattle, but what about the inbetweeners that could be doing localized PR in their own state and their own town to gain notoriety?" Dunn says. "I think that's equally important, and some franchises don't emphasize that enough in growing their brand."
Good Things Come to Those Who Wait
While taking the steps to build good PR is highly effective in the long run, Dunn cautions that it typically takes time for brands to see real results in terms of favorable coverage,
That's getting harder to accept given the instant gratification of social media, but Dunn believes fitness franchises that focus on PR will be rewarded for their patience.
"I believe in the power of PR," she says. "You're reaching a completely different audience than you would if you were just doing social media."