Apple Fitness+ Is Here and the Competition, Even Peloton, Has Reason to Be Scared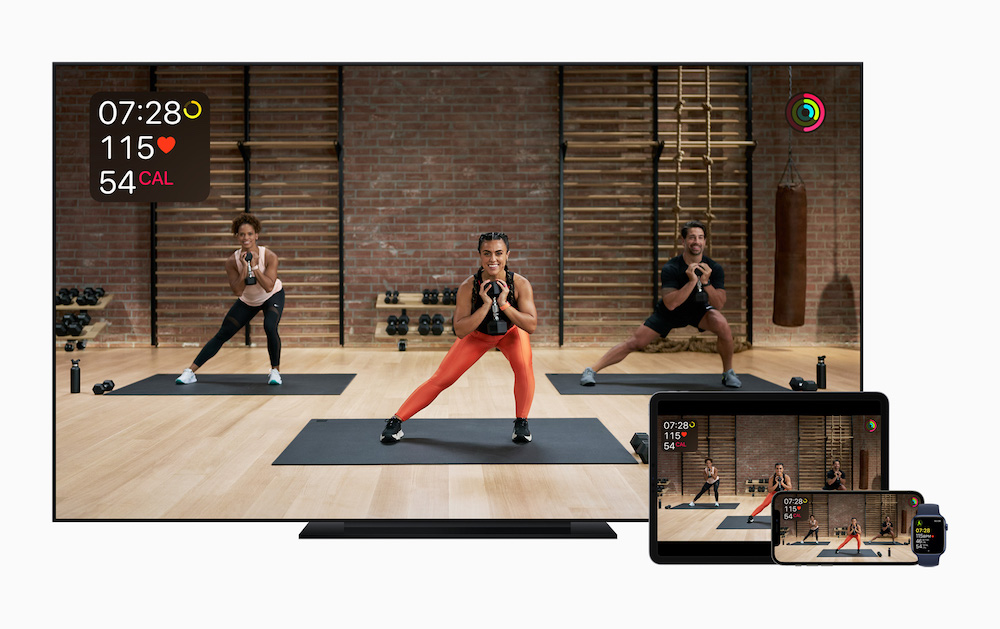 With an affordable price, studio-style workouts in popular genres and synchronicity with the tech giant's universe of programs and products, Apple Fitness+'s subscription service could dominate the market.
Three months after announcing its Apple Fitness+ exercise content subscription service, Apple has set Monday, December 14, as its release date and given details on what the digital conglomerate's ecosystem of fitness services will encompass.
For $9.99 per month or $79.99 per year, users will have access to a continually expanding library of studio-style workouts from the most popular genres of classes and taught by a slate of instructors Apple wants to turn into cult favorites. (The company has already coordinated and batched together their Instagram profiles.) Classes will be of varying lengths and algorithms will nudge users to new varieties based on their history. Apple is not hawking any new equipment for Fitness+, but this solar system of programming revolves around its Apple Watch.
The timing of the release coincides with the worsening of the COVID-19 pandemic and the reclosing of gyms in states like California and Pennsylvania, but obviously, Apple has been working on these programs for a while and increasing its presence in the digital fitness space for years, as its Apple Watch, propelled by fitness tracking options, has amassed a staggering 55 percent of the smart watch market. The announcement caused Peloton stocks to tumble down two percent as investors brace for some company to swipe a handful of the digital fitness instructor market that Peloton has so efficiently ruled over since the onset of the pandemic.
Fitness+ is a cheaper and more varied workout subscription service than many of those that have come to prominence in 2020 and there are few technology companies with more name recognition or preexisting market presence the Apple. The company is hoping that its initial slate of programming is enough to secure a place at the top of the ever-expanding online fitness market.
Workout options include strength training, yoga, dance, core, cycling, treadmill (for running and walking), rowing and high-intensity interval training (HIIT) as well as a "mindful cooldown" to close a session. New workouts will be added each week. For convenience, most workouts types come in increments of 10, 20, 30, and 45 minutes and each variety has an Absolute Beginner program for newbies. The content is available via iPhone, iPad or Apple TV, and users need a Series 3 or later Apple Watch to connect.
The Apple Watch will drive the interactive element of Fitness+. Once a user selects a workout, the Apple Watch syncs to it and during the session, metrics captured on the device, like steps or heartrate, are shown on the screen. Users can check their rates against anyone who has done the same workout previously and they can share their progress with friends who are also using the program.
Fitness+ promises to use your preferences and information to suggest new classes and routines. Many do not require any equipment, or just a set of dumbbells, and workouts where a piece of equipment is inherent in the routine, any kind of cycle, treadmill and rowing machine will work. The accessory-obsessed company has restrained itself by not coming up with an iBike or iRow with which to pair the service. For now.
Perhaps the most significant service synergy at work in Fitness+ is its use of music. Users can choose from nine different styles of workout music, from "Throwback Hits" to "Everything Rock" to "Latin Grooves." No word on which artists might be thrown into the background music option but since the launch of iTunes, Apple has had a unique relationship with large music copyright holders. And though an Apple Music subscription is not required for these options, if you have one, you can plus your own playlists into the workouts.
At launch, Apple Fitness+ is available in six countries: the U.S., Canada, the U.K., Ireland, Australia and New Zealand. Subscriptions are $9.99 per month or $79.99 per year. Fitness+ is also available to the $29.95-a-month Apple One Premier plan, its bundle of Apple subscription services. And, just in time for Christmas, people who purchase an Apple Watch, Series 3 or higher, get a three-month free trial.
Nick Keppler
Nick Keppler is a freelance journalist, writer and editor. He enjoys writing the difficult stories, the ones that make him pore over studies, talk about subjects that make people uncomfortable, and explain concepts that have taken years to develop. Nick has written extensively about psychology, healthcare, and public policy for national publications and for those locally- based in Pittsburgh. In addition to Athletech News, Nick has written for The Washington Post, The Daily Beast, Vice, Slate, Reuters, CityLab, Men's Health, The Gizmodo Media Group, The Financial Times, Mental Floss, The Village Voice and AlterNet. His journalistic heroes include Jon Ronson, Jon Krakauer and Norah Vincent.