ABC Fitness CEO Bill Davis Sees New 'Opportunity' With Technology, AI
Davis spoke with Athletech News about ABC Fitness's new corporate identity and strategic plan, including its commitment to helping traditional gyms leverage the power of technology.
ABC Fitness Solutions unveiled a new look and shared details of its strategic plan to deliver tailored services to all segments of the fitness market during a three-day whirlwind at IHRSA 2023.
At the recent trade show and convention in San Diego, Athletech News spoke with Bill Davis, CEO of ABC Fitness Solutions, a fit tech company that offers gym management software solutions and services to fitness operators. Davis shared his thoughts on the latest innovations in the industry and what fitness operators should consider as it relates to their members.
Read on to discover what's in store for ABC Fitness and how its solutions are enhancing fitness experiences for businesses and clients.
A bold mission
ABC Fitness's approach includes assisting customers in bringing their vision of fitness to their members by removing obstacles — which commonly arise from running a fitness business — in the best ways that suit them.
It's a solution-oriented approach that ABC Fitness clients can tailor to their specific requirements. And, thanks to the fit tech company's many integrated and complementary platforms, such as ABC Ignite, ABC Glofox, ABC EVO and ABC Trainerize, ABC Fitness can serve every region and niche in the fitness industry.
The brand has long maintained a growth plan, with Davis once sharing that ABC Fitness has had a 'Build, Buy, Partner' approach at the heart of its growth strategy, all designed to build a comprehensive suite of products that can empower fitness providers. As part of the company's 2021 strategic planning process, ABC Fitness identified international expansion and a boutique/studio club management solution as a strategic priority.
Now, just two years later, that strategy has enabled the company to equip all players in the fitness industry with solution-based methods.
Common challenges require a tailored solution
The fitness industry as a whole, from independent trainers and coaches to small studios and even national chains, can share common challenges, says ABC Fitness. While obstacles are inevitable for any business, the methods used to overcome them vary. It's a point that ABC Fitness underscores: one size does not fit all.
Through its various platforms, ABC can quickly deliver insights and remove the manual effort typically associated with managing an operation – regardless of size. ABC Fitness currently serves tens of thousands of operators and millions of members thanks to the flexibility provided by its multiple platforms, each of which focuses on a different fit tech segment or geographic region.
"By harnessing the best talent, technology, and data insights at a macro level and delivering solutions through our one brand in tailored, bespoke and creative ways, we benefit from the combined resources of a global leader with the nimbleness of an individual and invested business partner," said Davis.
"We can solve common industry problems in a myriad of ways, ensuring the best fit for each specific customer," he continued. "This ability is unrivaled in the industry, and I look forward to working with the ABC team to help our customers focus on delivering their fitness vision to their members while we help optimize running their business."
Davis sees new opportunities with technology, AI
Davis noted that the excitement at IHRSA was palpable in terms of the new brand and energy about bringing the ABC Fitness platforms together.
"We're really, really excited by the level of interest," Davis said.
He also touched on the enthusiasm of the industry as a whole at the convention.
"You cannot help but feel that there's a level of excitement around fitness and wellness holistically that has been missing for a number of years," he said. "That is, in my mind, contagious and really exciting."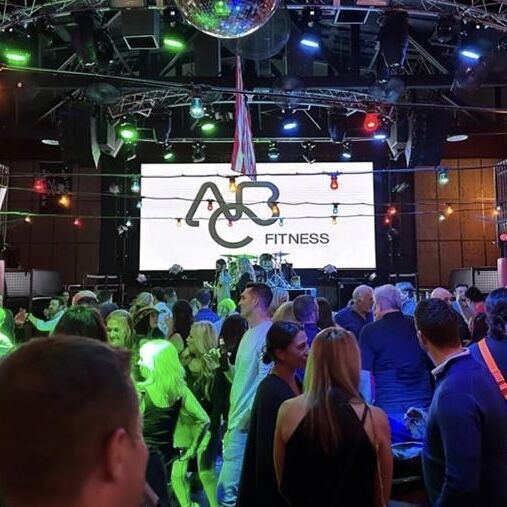 Davis also discussed fitness technology and touched on how it relates to what the industry has discovered in the wake of the pandemic. It has given fitness operators an opportunity to gain a fresh, tech-based perspective.
"Technology has an opportunity to be a significant key influencer in how fitness embraces the new norm which we firmly believe is a complement of traditional clubs and boutiques in the physical space to those experiences that are outside the club," he said. "And we have been talking about that now for a couple years, and we really believe that this show is reinforcing that operators need to think differently. And we think, again, technology has an opportunity to help positively connect that."
While Davis agrees that there is an element of under-utilization of current tech capabilities, he says many companies, including ABC Fitness, are still in their infancy in terms of capability – and should be delivering for the betterment of their customers and their customers' members.
"That's what excites me most about the journey that we're on," Davis said. "We are committed to innovation for the long term. It's not going away. But I think that by making the technology more intuitive and user friendly, the utilization and the optimization of that utilization is naturally going to come. I think we share responsibility in ensuring that that happens."
Davis is enamored with the prospects of machine learning and AI, but believes there is an opportunity to get some of the "foundational blocks" further advanced. Davis sees technology as an enabler designed to enrich human experiences, not replace them.
"It's there to free them up to do the things that are most important, like help people get healthier, fitter, hopefully, and better."
Solutions that reach far and wide
It's no easy task to build a club management offering that can be leveraged across all market segments, but doing so is made easier with a clear integration strategy that identifies capabilities or workflows.
It's a feat that ABC Fitness has in many ways mastered – and goes back to the company's own initial strategies as it's built its brand and continues to expand.
"By virtue of our Glofox acquisition, giving us the geographic reach, where we now can actually operate in 90-plus countries around the world, (it) gives us that much more reach and accessibility, if you will," said Davis. "But it's finding those areas where you can drive synergy, but recognize the uniqueness of the discrete markets that you're also committed to serving, and bringing the complement of the two together."
Davis shared that Planet Fitness is one client that's benefiting from ABC Fitness's synergies.
The fitness franchisor announced a new four-year agreement, extending its partnership through 2027. The new agreement follows a comprehensive and year-long independent review by Planet Fitness based on its current and future technology needs, and the fitness franchisor will upgrade to ABC's IGNITE club management solution across its U.S. and Canada club locations to streamline its tech operations.
The ABC IGNITE solution is optimized for traditional, large gyms and multi-location franchises, scalable to suit the needs of club operations in North America and has a flexible modular approach covering all aspects of club management.
"We're very proud of that extension of our working relationship for the next four years," Davis said of the agreement with Planet Fitness.
ABC Fitness also has boutique fitness clients, such as Xponential Brands, F45 and UFC gyms. But as Davis points out, the company serves thousands of single club operators around the globe that are equally important to ABC Fitness.
The company offers ABC GLOFOX, a fully integrated club management solution primarily focused on boutique and studio fitness, which is suitable for startups and international franchises alike. The platform offers a suite of tools spanning sales, membership, engagement, operations, commerce and insights.
The company is also rolling out new capabilities to a bulk of its legacy customers.
"We are introducing our Trainerize capabilities, the foundation of our mobile solution, to over 50% of our legacy ABC customer base," Davis said. "We are also just now introducing the Trainerize capabilities into the Glofox customer base. And we're seeing early signs of real positive indications of interest there."
Trainerize, which is a member engagement mobile app and software platform, enables coaches and fitness businesses to expand their reach, connect with members, and digitize the training experience. The platform allows fitness coaches to dig deep into behavioral changes and healthier lifestyle decisions of their clients by combining fitness, nutrition and habits alongside online coaching.
"So still a little early, but we're excited by its prospects," Davis said. "We're also introducing our modernized reporting capabilities across all of our customers as well, whether they're personal trainers or in the boutique space."
On global growth
Davis shared that in addition to North America, ABC Fitness has witnessed phenomenal success in the last six to nine months in Latin America.
"It's a little-known secret about ABC that we had a very strong presence for years in Brazil specifically. About a year or so ago, we made the strategic decision to start to take those capabilities and move more extensively across Latin America," Davis shared.
ABC Fitness offers EVO, an integrated club management solution focused on Latin America and optimized for country-specific payment processing. It also delivers content in native languages and provides tailored services.
Davis said ABC Fitness is excited and proud of the success it's experiencing in markets such as Mexico, Colombia, Chile and Argentina.
"Asia-Pacific, Australia and New Zealand, in particular, are markets doing really well for us," he added. "EMEA (Europe, Middle East, Africa) has been a little bit slower than some of the other markets, but we're seeing some promising indications that that's starting to move in a positive direction.
Looking ahead, ABC Fitness will be sharing additional news relating to its brand and individual platform delivery.
Courtney Rehfeldt
Courtney Rehfeldt has worked in the broadcasting media industry since 2007 and has freelanced since 2012. Her work has been featured in Age of Awareness, Times Beacon Record, The New York Times, and she has an upcoming piece in Slate. She studied yoga & meditation under Beryl Bender Birch at The Hard & The Soft Yoga Institute. She enjoys hiking, being outdoors, and is an avid reader. Courtney has a BA in Media & Communications studies.