The Best Gym Shoes for Every Workout, According to Personal Trainers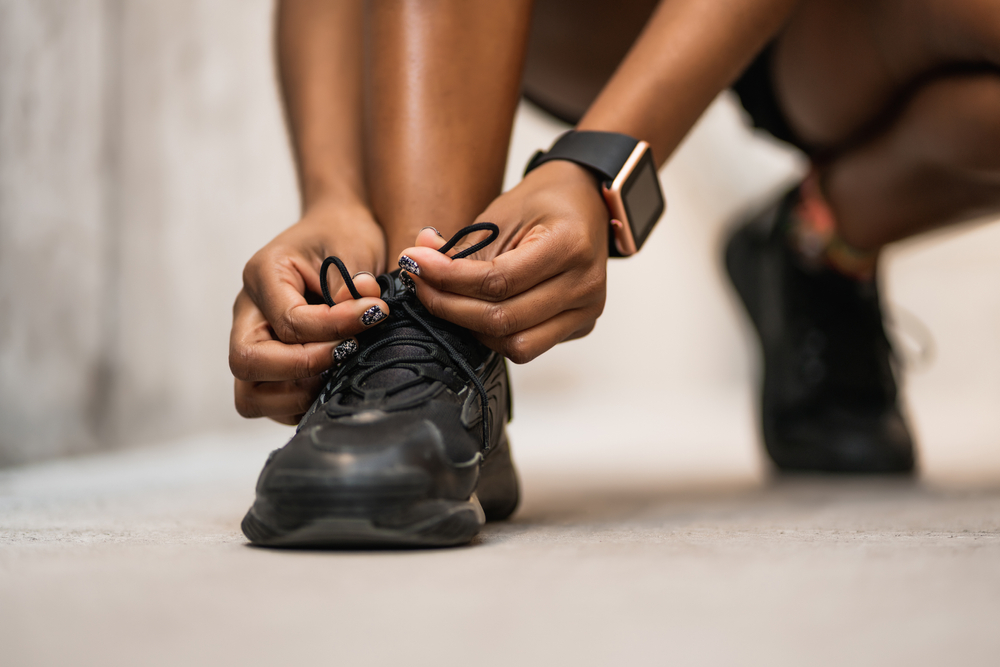 credit: Mix Tape/shutterstock.com
There are different shoes for different workouts, so finding what's best comes down to how you plan to achieve your fitness goals
All products featured on Athletech News are independently selected by our editors. However, when you buy something through our retail links, we may earn an affiliate commission
Finding the best workout shoes for the gym is both exciting and overwhelming. You're ready for the next steps (no pun intended) in achieving your fitness goals, but there are so many options to choose from.
To help you on your fitness footwear journey, Athletech News spoke with personal trainers to find out what they recommend for their own clients.
"The coolest thing about choosing the right trainers (sneakers/workout shoes) is that they can significantly help to enhance your performance as every pair is designed with a different range of movement in mind," described Savannah Sachdev, a lifestyle and fitness content creator and runner from London. "It's important to try on multiple brands and not be swayed by what's 'trending on Tiktok,' as everyone's feet are completely unique."
One of the best ways to find what works for you is to have a plan of attack. There are different shoes for different workouts and different people, so finding what's best comes down to how you plan to achieve your goals.
"This is a little dependent on what kinds of workouts people are doing," explained ​​Chris Crowthers, a personal trainer at Mark Fisher Fitness in Manhattan. "If you're somebody that is doing general fitness—some strength training, maybe taking some classes, maybe doing some cardio then I think comfort needs to be the top priority."
Additionally, you want to pick a pair of workout shoes that feel good on your feet—especially if you're going to wear them every day or every other day for hours at a time.
"Comfort over everything and good arch support," said Ceren Kalyon, a fitness instructor and run coach at Barry's and Equinox in Los Angeles. "I spent so many years not knowing what shoes I needed for lifting versus running and wished I had guidance prior to starting my fitness journey. When going to the gym to lift, I like to look for shoes with elevated heels to make sure it enhances my ability to maintain proper posture."
Check out the best workout shoes, according to personal trainers:
Best for weightlifting/bodybuilding: Reebok Legacy Lifter.
If you're looking for fantastic workout shoes for weightlifting, then you should consider a pair with minimal cushioning, premium quality and overall comfort.
"A good lifting shoe will hugely improve your lifting experience," explained Sachdev. "A thin, flat and wide sole to maximize stability and increase force transfer during lifts. A solid and raised heel will aid with stability and posture. The slight heel will offer increased ankle mobility and therefore more squat depth as you'll be in a more upright position."
Weightlifting shoes should have excellent ankle support.
"Security is important. Laces and velcro straps should be considered as you'll require extra security with all that additional ankle mobility," Sachdev continued. "Also, define your style of movement. Olympic lifting, powerlifting and bodybuilding would require a slightly different shoe so make sure to understand your requirements and do your research."
"Choosing a pair is dependent on your biomechanics and lifting style," she added. "However, my personal favorite lifting shoe is the Reebok Legacy Lifter. When you initially wear them, don't be surprised if they feel off, it may take your body some time to adjust to the positioning but ultimately they are a great tool to improve your lifts."
For peak performance, the Reebok Legacy Lifter collection features shoes that offer stability and security with a midfoot locked-in strap and the company's iconic inflatable "pump" technology for adjustability.
Best for strength training/powerlifting: Converse All-Star
You should consider the old-school sneaker Converse All-Star—especially high-top Chuck Taylor shoes—for strength training because they can help your body maintain stability, while also enabling you to have complete control when you lift.
"I think the best option is Converse All-Star," said Crowthers. "You want a shoe that's going to allow you to really feel the ground and maintain stability and control in your big lifts like squats and deadlifts. It's really hard to connect to the floor when there's a lot of cushion, especially if you're going really heavy."
Best for running on a treadmill: New Balance 860 V12
When looking for a workout shoe for running on a treadmill, you want a pair that's comfortable with neutral support. It has to have a light and fast design, while also being reliable on various surfaces.
According to Kalyon: "Running shoes are also very dependent on how you feel like to feel the ground, track and treadmill. Also, when running on the treadmill, it's important to consider your distance and incline, just like you would when you're running outside!"
She recommends the New Balance 860 V12 sneakers.
"If you want to feel like you're wearing a pair of gloves on your feet, it offers a light foam and is super bouncy on your feet for that support for runners who need it," Kalyon said
Best for cross-training: Nike Free Metcon 4
Looking for the best workout shoes for cross-training? Then check out the very versatile Nike Free Metcon 4. These sneakers are specifically designed for cross-training, offering stability and support to get the best performance with proper weight distribution and a low drop for the lower body. They're comfortable and cushy for high-impact workouts, while they also provide enhanced traction for climbing.
"Very comfortable training shoes," raved a satisfied Nike shopper. "I practice HIIT, cardio, lunges, squats, etc every morning and they are absolutely comfortable. They feel very light. They are exactly what I was looking for. Their sole is perfect for training on the ground. Also, my feet feel much more secure when I'm jumping or doing lunges."
Best for cycling: Nike SuperRep Cycle 2 Next Nature
For cycling, the Nike SuperRep Cycle 2 Next Nature shoes will do the trick. They were designed with support for highest intensity workouts like cycling, while lightweight and breathable—thanks to their mesh materials and cooling vents, which allow for better airflow on the feet. These shoes also have a strap closure with two fastening points for safety and security for a smooth ride. They're even made from recycled materials and rubber, so you won't slide off the pedals when going at your top speed.
"Very comfortable and lightweight. Airflow is great," shared one Nike shopper. "I purchased the red cycling shoes which are true red and look great. Very happy with the shoes and highly recommend them."
Best barefoot shoes: Vivobarefoot Primus Lite III
It's believed that working out barefoot is one of the best things to do for strength training because your heel is closer to the ground, which is said to improve balance and increase range of motion. However, most, if not all, gyms don't allow people to walk around barefoot. So the closest you can get is with a pair of barefoot shoes.
"There are pros and cons to barefoot trainers," explained Sachdev. "The pros being you can improve the strength of your feet and ankles as they require you to use muscles that your usual shoes would not, while your natural position can help to improve flexibility, balance and posture."
"The cons being that you require a little more confidence to wear (them) as they do look different, dropping a weight on them would do some damage to you and it could take time to acclimate to them."
The Vivobarefoot Primus Lite III allows your feet to move naturally to promote foot strength and performance. This pair is also thin, lightweight and wide to accommodate just about any foot type.