Spotify and Peloton Join Forces to Make You Move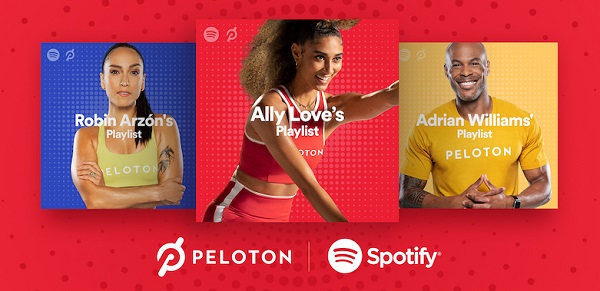 Take a quiz to reveal what Peloton instructor is your dream DJ.
Regardless of exciting tech advancements and fitness modernization that brings bells and whistles, most agree that great music is still the foundation for an invigorating workout experience. Who would know better than Peloton and music streaming provider Spotify? The two industry leaders just announced a partnership to integrate popular hits with fitness.
Spotify revealed that Peloton will now have a dedicated music "shelf" in Spotify's Workout Hub, including seven playlists from Peloton instructors, and will target its fitness categories. Titled Curated by Peloton, the selections will offer playlists that cater to running, strength, and more.
Studies show that listening to music can increase enjoyment during a workout, and is energizing. Spotify recognizes that its members use the streaming platform while engaging in physical activity, whether it's at the gym, at home, or on a trail. The music platform has been experimenting with ways to entertain fitness buffs with added features. Last year, the music provider launched a Power Hour playlist and enabled a function, Track Love, that allows users to save their favorite songs.
Peloton instructors, who celebrate a bit of fitness celebrity in their own right, have given their own personal music touches on the Spotify playlists. Tread and Strength Instructor Adrian Wiliams, Yoga Instructor Mariana Fernández, Cycling and Strength Instructor Ally Love, Robin Arzón, and Tunde Oyeneyin all have individual playlists. Arzón has an eclectic offering that ranges from Dolly Parton to Wu-Tang, as does Williams, who has System of a Down and Justin Bieber listed.
One of Peloton's most motivating (and challenging) Cycling and Bike Bootcamp instructors is Tunde Oyeneyin. She says that music is key in the Peloton workouts and has a magical pull.
"People come to me for a couple of different reasons: If they want somebody to motivate the hell out of them, if they're looking to be challenged, and if they want a really great playlist. The music on my playlist is definitely a factor that draws people in. And I think sometimes people may not necessarily want the challenge, but they're so addicted to the playlist that that usually pulls them in. I'm very intentional. In order to do what I am requiring of you, what I'm asking of you, you have to have a soundtrack that propels you. Music is the drive," Oyeneyin says in an interview published on Spotify's site.
Oyeneyin compared the best fitness classes to be like a great book – with a defined beginning, middle, and an end.
"I use the music to not only balance, but also to tell a story," Oyeneyin explains.
The Peloton instructor loves using Beyoncé, Drake, Ariana Grande, Outkast, and Missy Elliot for energy boosts during her class and is mindful about the music choices.
"Life isn't flat, meaning there are highs and lows, there are peaks and valleys. I try to use music to illustrate that as I program the class," she says.
The Peloton-Spotify musical collaboration is available today. Spotify is offering an interactive component to help users find their best music match with a "Find Your Instructor" quiz. The brief quiz will reveal the Peloton instructor that has a similar taste in tunes.
Courtney Rehfeldt
Courtney Rehfeldt has worked in the broadcasting media industry since 2007 and has freelanced since 2012. Her work has been featured in Age of Awareness, Times Beacon Record, The New York Times, and she has an upcoming piece in Slate. She studied yoga & meditation under Beryl Bender Birch at The Hard & The Soft Yoga Institute. She enjoys hiking, being outdoors, and is an avid reader. Courtney has a BA in Media & Communications studies.