Peloton Gets Into The Holiday Spirit With Motivational Ad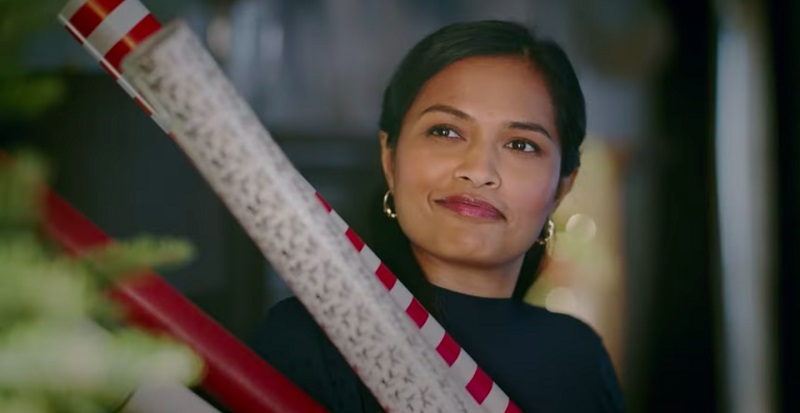 Candace Cordelia Smith
Candace Cordelia is a Pennsylvania-based journalist and on-camera broadcaster/host, with…
Peloton is welcoming the 2022 holiday season with their signature motivational spirit, courtesy of a new ad. The campaign features Peloton star instructors Robin Arzón and Alex Toussaint hyping up a busy couple as they transition from their Peloton-infused workouts to preparing for the holidays.
Peloton is getting a head start on this year's holiday season with an inspiring ad. Titled "The Peloton Effect," the commercial shows how loyal Peloton customers can use the encouragement and motivation found within each Peloton workout in their everyday lives.
The 30-second holiday commercial stars celebrity Peloton instructors Robin Arzón and Alex Toussaint motivating a husband and wife on their individual Peloton fitness machines. When the husband receives a message from mom, who says she is on her way to their home, the encouragement to whip up a savory holiday meal and wrap presents continues on from the Peloton Tread and the Exercise Bike. Arzón and Toussaint themselves are transformed from Peloton fitness machine screens to miniature versions of themselves in the couple's home. "Hey, no challenge, no change," declares a mini-sized Arzón standing atop a Christmas tree star ornament to the wife as she prepares her gift wrapping.
Arzón shared the Peloton holiday ad on her Instagram page. In the caption she wrote, "Who wants a miniaturized version of me and @alextoussaint25?? Pocket sized and available to motivate 24/7 for anything that life throws your way this holiday season. [laughing face emoji] This was such a fun ad to shoot! @onepeloton [gift emoji]
The commercial, co-produced by independent creative company Mother LA, serves as an ode to the "unique effect" Peloton Instructors are known to have on Peloton members both in and outside their workout sessions. "We know our Instructors' words inspire and motivate, as we've heard countless stories of how Members apply what they hear in class to their everyday lives — it's one of the things that makes the connection between Instructor and Member so special," says Peloton's SVP of Global Creative, Bryant Brennan. "Our 2022 holiday campaign brings to life how the kind of motivation you find at Peloton is there for you, wherever and whenever you need it."
A UK version of Peloton's heartwarming holiday ad featuring Peloton instructors Jon Hosking and Hannah Frankson is available to view on Hosking's Instagram account, and on Peloton's official YouTube channel. Arzón and Toussaint's ad will air in the United States and Canada on TV, digital and social platforms.
Candace Cordelia Smith
Candace Cordelia is a Pennsylvania-based journalist and on-camera broadcaster/host, with a reporting background in wrestling, entertainment, and lifestyle. Her reporting work has been featured on websites and in publications such as Bustle, Pro Wrestling Illustrated, New York Daily News, am New York, ABC News, Yahoo!, Good Morning America, Madame Noire, Sister 2 Sister, etonline.com, Diva Dirt and The Everyday Fan. Her favorite workout influencers include Chloe Ting, Cassey Ho, Pamela Reif and Mary Braun. She still can't stand burpees and Rebbl Dark Chocolate Immunity Elixir is one of her favorite post-workout protein sips. You can follow Candace on Twitter @CandaceCordelia and on Instagram @thatgirlcandace16.