Facebook Oculus Quest VR Headset Primed for Fitness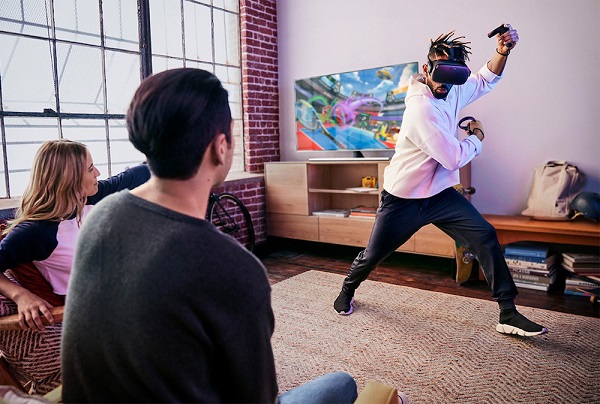 Mark Zuckerberg's company is moving forward into the fitness space.
During a recent Facebook Connect presentation, CEO Mark Zuckerberg announced plans for the controversial tech giant, re-branding the company as Meta, and shared his futuristic vision on fitness, discussing the excitement around virtually immersive experiences and hinting at what's to come for health and wellness in the "metaverse." Zuckerberg also announced the new fitness accessories pack for Facebook Oculus Quest 2.
The Meta CEO noted that the Oculus Quest 2 will be more comfortable and will include controller grips. The grips, Zuckerberg says, are "for when things been intense."
The new fitness pack will also have a user-friendly facial interface that allows the wearer to easily wipe off sweat, making it ideal for fitness workouts. "That's all coming next year," Zuckerberg said.
Pricing information isn't available yet for the Facebook Oculus Quest 2 pack.
Facebook has had an eventful month with revelations from whistleblower Frances Haugen, a former data scientist at the company, and her testimony at Capitol Hill. The tech giant is familiar with scrutiny and took the opportunity to pivot towards the future of technology. Facebook quickly announced it would be rebranding itself as Meta, the new name to replace Facebook. Meta, Zuckerberg said, is a nod to the futuristic space he wishes to create and is adapted from the Greek word for "beyond."
With the future of fitness becoming more connected and tech-driven, Zuckerberg sees a growing trend.
"I think we're going to see a lot more unique experiences emerging around fitness that take advantage of the full immersion in interactive training," Zuckerberg shared.
Meta is heavily invested in VR, with the CEO also revealing an upcoming project he refers to as "Project Cambria," a code name for what he said is "a new product that will push the boundaries of VR even further." Zuckerberg explained that he sees the merging of various worlds as a metaverse with endless opportunities for commerce, job growth, and further advancements.
Comparing the Quest to a Peloton, the Meta CEO noted that the headset is dynamic and hinted at what possibilities are in the works.
"A lot of you are already using Quest to stay fit. It lets you work out in some completely new ways. It's kind of like a Peloton, but instead of a bike, you just have your VR headset and with it, you can do anything from boxing lessons to sword fighting to even dancing. You'll be able to work out in new worlds, even against an AI. Maybe you'll get some friends together for some three on three. Maybe play pickup with people on the other side of the world. Or imagine your Facebook cycling group does an AR charity ride," he said.
It makes sense that the tech giant would be moving more into the fitness space, as the pandemic has led to a fitness evolution in more ways than one. People are becoming more health-conscious, and many have been seeking a virtual fitness experience from the comfort of their homes. At-home fitness equipment has seen a significant increase, and adding a VR headset could become as commonplace as a yoga mat. It would appear that Meta has some ambitious features arriving in the future, which isn't surprising from the company that changed social media. Immersive fitness and training experiences, leaderboards, or, as Zuckerberg hinted in the presentation, "Maybe you'll be able to train with the best, like you're right there with them. Like Lee Kiefer, Olympic gold medalist."
Courtney Rehfeldt
Courtney Rehfeldt has worked in the broadcasting media industry since 2007 and has freelanced since 2012. Her work has been featured in Age of Awareness, Times Beacon Record, The New York Times, and she has an upcoming piece in Slate. She studied yoga & meditation under Beryl Bender Birch at The Hard & The Soft Yoga Institute. She enjoys hiking, being outdoors, and is an avid reader. Courtney has a BA in Media & Communications studies.