Crunch Fitness Debuts Hand-Swipe Entry Tech From Amazon
credit: Crunch Fitness
The popular fitness franchise has made it easier than ever for members to get into Crunch Fitness clubs and right to their workouts
Entering into a Crunch Fitness facility has become as easy as a palm swipe.
The rapidly growing franchise is now the first fitness brand to unveil the Amazon One palm reader for its members, so Crunch Fitness clients can quickly enter their clubs by hovering their palm over a device.
The seamless, Star Trek-esque entry option is available for members at select Crunch locations and is being piloted at nine Crunch clubs, including five locations in San Francisco, three in New York City, and one in the Los Angeles area.
Additional locations will roll out the Amazon One technology in the coming months.
The fitness franchise says it has received a positive response from its members after its four-month pilot of the palm-hovering entry method, with 80% of Crunch clients opting to use Amazon One.
"We are thrilled to be the first fitness brand and gym to offer Amazon One as an entry option," said Molly Long, chief experience officer at Crunch. Long was appointed earlier this spring to advance the membership experience and overall satisfaction at Crunch.
"Implementing Amazon One at Crunch gyms has been a win-win for our members and for our Crunch team," Long added. "The feedback from our members has been positive—they appreciate the ability to enter the gym swiftly and efficiently without the need to remember to bring their membership key tag or open the mobile app."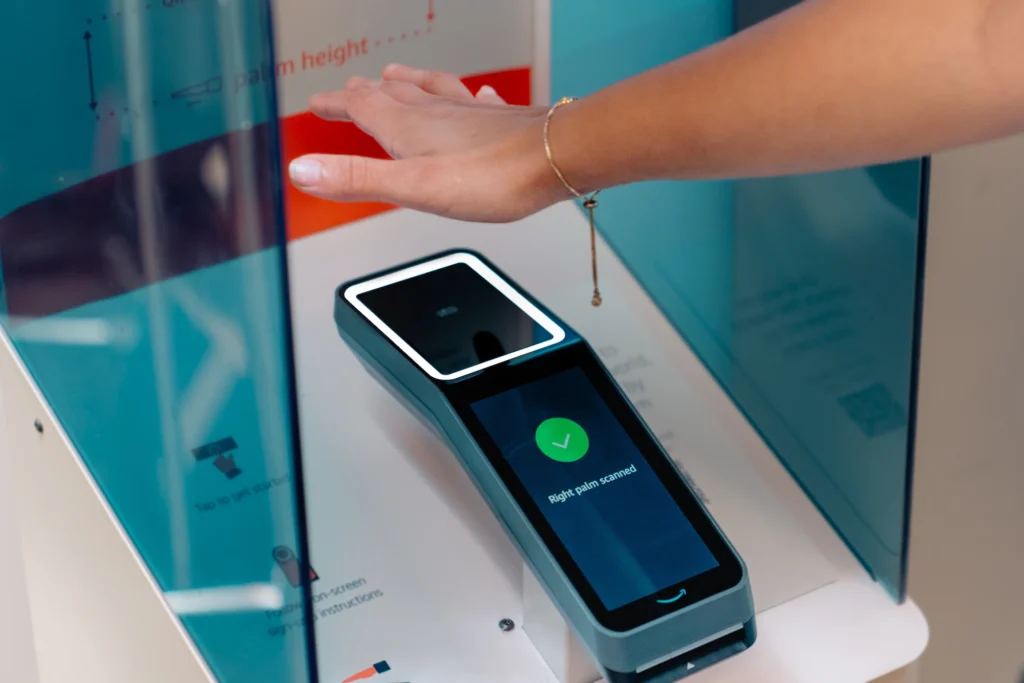 Amazon One's biometric identity service looks at the palm and underlying vein structure to create a unique "palm signature" for identity matching, which can't be replicated. The images of scanned palms are immediately encrypted and sent to the AWS Cloud for safekeeping. 
The futuristic entry method is meant to streamline the process for Crunch members, but gym-goers can opt into the program or continue using their tag or app. Crunch members can enroll at the Amazon One kiosk at their participating club or pre-enroll online.
The technology can also be used as a payment method and is currently being pushed out to all Whole Foods stores and other retailers across travel, sports, entertainment and grocers.
"The fast-growing adoption of Amazon One at Crunch Fitness centers showcases the versatility of our palm recognition service, and how it can be used as a quick and convenient entry option in gyms and fitness centers across the country," said Sanjay Dash, vice president of identity and checkout technologies for AWS Applications.
As Crunch rolls out Amazon One, the fitness franchise may be in the minority when it comes to operators who have digitized their core operations. According to a recent EGYM white paper, only 5% of fitness clubs and facilities have fully adopted digitization, while 62% report that they are just starting.
Courtney Rehfeldt
Courtney Rehfeldt has worked in the broadcasting media industry since 2007 and has freelanced since 2012. Her work has been featured in Age of Awareness, Times Beacon Record, The New York Times, and she has an upcoming piece in Slate. She studied yoga & meditation under Beryl Bender Birch at The Hard & The Soft Yoga Institute. She enjoys hiking, being outdoors, and is an avid reader. Courtney has a BA in Media & Communications studies.