CEO Corner: Anna Fabrega of Freshly Leads With Her Team & Her Love of Business
A year removed from her elevated position as Freshly CEO, Anna Fabrega gives Athletech News some insight on going from distribution operations manager to directing one of the world's leading prepared meal delivery services
Anna Fabrega knew exactly what she wanted to be growing up — a business leader. From her start as a University of Florida freshman, the Panama native's path was anything but unbending. Still, as Fabrega tells Athletech News, she's always "made it a point to be well-rounded, and I don't recognize lanes." It appears this mode of thinking proved to be just the right mix of ingredients for Fabrega's recipe and she's now led one of the world's foremost prepared meal delivery services, Freshly, into another year of prosperity.
Since Fabrega's auspicious new role as Freshly's CEO, the company has grown to include an additional subdivision called FreshlyWell for employers, organizations, and member communities. The Nestlé-acquired business has also made sure to keep up with a variety of palates and budget demands (plant-based, gluten-free, carb-smart, dairy-free, etc.). In the CEO driver's seat, Anna Fabrega maintains focus as she makes sure Freshly continues to be innovative and that she is supportive of her team's ideas and hard work.
To gain a better view of Fabrega's journey, perceptions of what makes a good CEO, and the charities important to her, keep reading this installment, featuring Fabrega herself, for our latest CEO Corner piece.
Athletech News (ATN): Tell us about your background.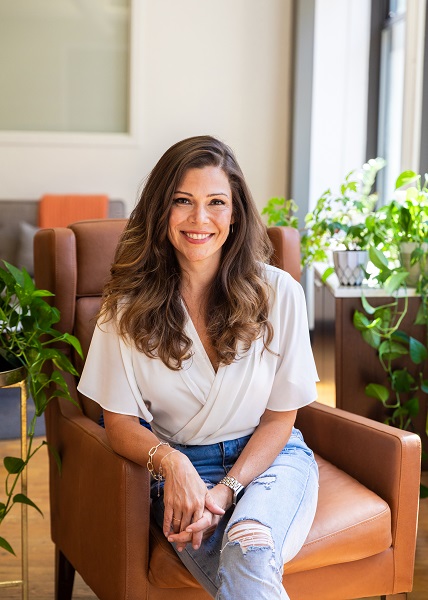 Anna Fabrega: Growing up in Panama, I always knew I wanted to enter the business world and was determined to make that happen for myself. I completed my undergraduate studies at the University of Florida, and from there started my career at McMaster-Carr, managing various distribution operations. I went on to get my MBA from the Kellogg School of Management and subsequently took a leadership role at Stripes, a 500+ location convenience store chain (now owned by 7-Eleven). I stayed there for a while learning everything I could and then in 2008, I took a role with Microsoft, where I served as part of the global brand strategy team and led the brand migration of all on-premises server-based products to the cloud.
In 2011, I migrated to Amazon, where I ran the $4B Sports and Outdoors business before joining the Amazon Go team as the leader responsible for developing and operating stores using Just Walk Out technology. During my time leading Amazon Go, I scaled the business to 28 stores across four cities and launched Amazon Go Grocery, the first full Just Walk Out grocery store. I'm now the CEO of Freshly, the nation's leading prepared meal delivery service.
ATN: Please tell us about your current company and how either your role or the company (if you are a founder) came to fruition.
Anna Fabrega: Freshly provides healthy and balanced nourishment for busy lives. Our mission is to break down the barriers to healthy eating by filling people's fridges with nutritious meals that are convenient and ready to enjoy. We also recently announced the launch of FreshlyWell which is an extension of that vision–a dedicated business arm built to deliver our signature meals to employers, organizations and member communities across a range of industries. In addition to sectors like healthcare, universities and hospitality, we specialize in healthy mealtime solutions for fitness platforms and studios, working with companies like ClassPass and obé, among others.
ATN: What was your journey like to get to this point?
Anna Fabrega: My journey has been anything but linear. I've made dozens of side steps and decisions that diverted me from what others might assume was a direct line to success. I've taken pay cuts and unexpected jobs; but those decisions gave me the business experience I needed to reach and excel in the position I have now.
I feel so grateful for this journey, as it has taught me invaluable lessons when it comes to being a great leader and understanding my teams.
ATN: Who is your mentor? Role model?
Anna Fabrega: I've had some hugely impactful mentors throughout my career – from my time at Stripes to my tenure at Amazon – who not only helped to grow my technical skill sets, but also taught me invaluable lessons in professional maturity, inclusivity and leadership.
ATN: What are some of your daily habits?
Anna Fabrega: As a mom, wife and CEO, I strive to maintain a solid daily routine to ensure my most productive self. I start every morning with a big glass of water and I make sure to get a workout in–if I don't do it in the morning, then it most likely won't happen. Getting my body moving in some way each morning is super important as it helps kick start my day with a positive mindset. Once I get my kids ready and dropped off at school, I take some time for myself and sit down to do my skincare routine. To start the workday, I like to take the first hour or so to get some steps in on my desk treadmill and review the work I need to get done before my day gets too crazy with conference calls. (Fun fact: my favorite treat is Werther's Candies, so I like to sneak a couple of those after lunch everyday!) Then when I reach the end of my day, I prioritize family time and spend the rest of the evening with my kids.
ATN: What makes a good CEO?
Anna Fabrega: I like to lead as a 'recommendation approver,' as opposed to a 'decision maker.' I believe this helps to empower my team to continually innovate and bring creative thought starters to the table. I am open to any and all suggestions from my teams, as long as they bring the facts and insights to back up their thoughts. Leading alongside your team instead of working from the top down is what I believe makes a great leader and CEO.
ATN: What did you want to be when you grew up?
Anna Fabrega: I always knew I wanted to be in business in some capacity. Growing up, my grandfather would send me The Wall Street Journal and I would read every issue cover to cover. I may not have known what it all meant then, but it really helped to develop my mind for business.
ATN: What charities are important to you? What does philanthropy mean to you?
Anna Fabrega: I recently joined the Board of Directors at American Public Education, Inc. (APEI). The organization's mission of preparing students for leadership by helping them reach their full potential is incredibly important to me. With a focus on educating and training our service members, veterans, nurses and motivated professionals that strive to have a lasting impact in their field and beyond, it's an honor to be a member of, and ambassador for, this organization.
Candace Cordelia Smith
Candace Cordelia is a Pennsylvania-based journalist and on-camera broadcaster/host, with a reporting background in wrestling, entertainment, and lifestyle. Her reporting work has been featured on websites and in publications such as Bustle, Pro Wrestling Illustrated, New York Daily News, am New York, ABC News, Yahoo!, Good Morning America, Madame Noire, Sister 2 Sister, etonline.com, Diva Dirt and The Everyday Fan. Her favorite workout influencers include Chloe Ting, Cassey Ho, Pamela Reif and Mary Braun. She still can't stand burpees and Rebbl Dark Chocolate Immunity Elixir is one of her favorite post-workout protein sips. You can follow Candace on Twitter @CandaceCordelia and on Instagram @thatgirlcandace16.