Want a Free Amazon Halo View? Sign Up for a Planet Fitness Black Card!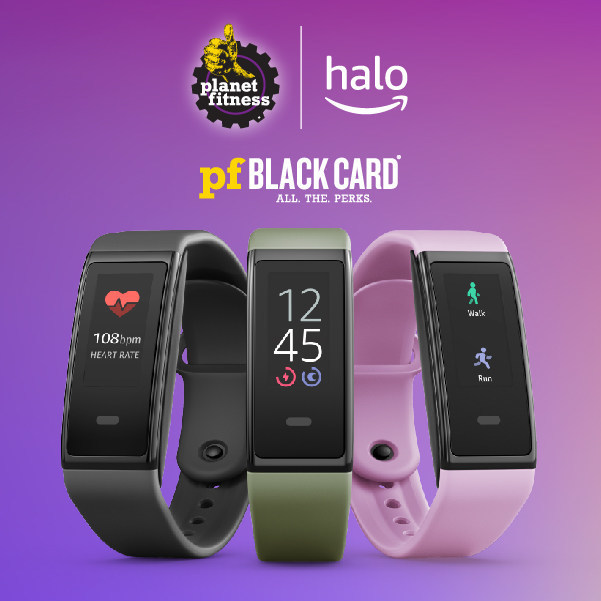 Candace Cordelia Smith
Candace Cordelia is a Pennsylvania-based journalist and on-camera broadcaster/host, with…
Just in time for the holidays, new Planet Fitness Black Card members will receive a complimentary Amazon Halo View wellness tracker to keep up with their fitness progress
No judgment here. Anyone who signs up for a Planet Fitness Black Card from now until November 15 will receive a free Amazon Halo View pedometer. Lucky recipients will also gain one year of free access to an Amazon Halo membership. Both Planet Fitness and Amazon brands hope their new alliance will encourage individuals to get a head start and keep consistent on their fitness journeys.
Planet Fitness' Chief Digital Officer, Sherrill Kaplan, states, "We're excited to help our new PF Black Card® members kickstart their health and wellness journeys by collaborating with Amazon Halo to give them a complimentary Halo View to track their progress."
Kaplan adds, "People are more conscious of their physical and mental health than ever before, and Amazon's Halo View provides PF Black Card® members with additional value, motivation and support. We believe the health tracking and helpful reminders the device provides will help keep PF Black Card® members moving throughout the day."
The Planet Fitness Black Card comes equipped with a number of membership benefits, including the ability to visit over 2300 Planet Fitness locations, premium perks, discounts on beverages, the allowance of bringing a guest, and more. As for the Amazon Halo View, users can enjoy counting health metrics such as their steps, heart rate, blood oxygen levels and Sleep score, uncover healthy recipes, and obtain a personalized exercise program among other conveniences.
News of Planet Fitness and Amazon's partnership comes several months removed from the announcement of the former's successful second quarter of 2022. As previously reported by Athletech News, Planet Fitness' join trend came at an additional 300,000 net new members. Total revenue for the favored fitness company also increased $87.2 million to $224.4 million within the same quarter.
The Planet Fitness-meets-Amazon Halo View deal won't last forever — those interested in signing up have until November 15 to secure their enrollment. Classic memberships are set to begin at $10, and PF Black Card® members will receive a monthly bill at the starting price of $24.99. All enrollees must be 18 or over, or between the ages of 13-17 with a parent or guardian's permission.
Candace Cordelia Smith
Candace Cordelia is a Pennsylvania-based journalist and on-camera broadcaster/host, with a reporting background in wrestling, entertainment, and lifestyle. Her reporting work has been featured on websites and in publications such as Bustle, Pro Wrestling Illustrated, New York Daily News, am New York, ABC News, Yahoo!, Good Morning America, Madame Noire, Sister 2 Sister, etonline.com, Diva Dirt and The Everyday Fan. Her favorite workout influencers include Chloe Ting, Cassey Ho, Pamela Reif and Mary Braun. She still can't stand burpees and Rebbl Dark Chocolate Immunity Elixir is one of her favorite post-workout protein sips. You can follow Candace on Twitter @CandaceCordelia and on Instagram @thatgirlcandace16.