Recovery Day: Noah Neiman Stays Grounded with Boxing & Motorcycles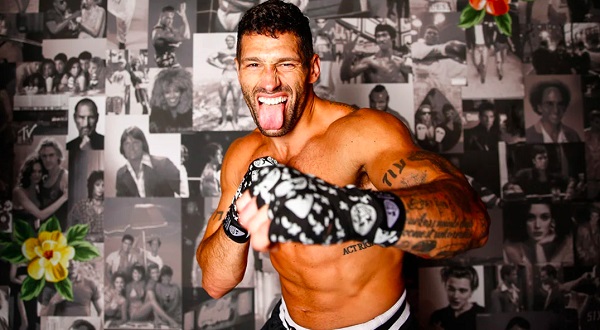 Candace Cordelia Smith
Candace Cordelia is a Pennsylvania-based journalist and on-camera broadcaster/host, with…
Rumble Boxing co-founder Noah Neiman gives Athletech News his top ten answers for our "Recovery Day" question series. Things that the fitness entrepreneur promotes include the benefits of boxing, therapy, meditation and doing away with the idea of "cheat days."
Noah Neiman, the co-founder of Rumble Boxing and a fitness entrepreneur, has trained a number of the world's biggest names in entertainment, fashion, and sports. He's also been featured on reality TV (remember Bravo's "Work Out New York"?), has made daytime on-screen appearances on shows such as Dr. Oz and TODAY, and graced the pages of Vanity Fair, GQ, and Glamour. The Pittsburgh native has come a long way to achieving extraordinary success in the world of fitness and is the epitome of "work hard, play hard." In order to know more about Neiman, here's his uncensored, raw answers for our "Recovery Day" questionnaire.
Athletech News (ATN): What do you do on your "off" day?
Noah Neiman: Honestly, what I do requires such an abundance of energy. I'm an ambivert, so I'm extremely extroverted when I'm on the clock and when I'm out. But I really just love my downtime. I love going to Central Park, I love walking and spending time with my dogs. I actually love boxing in my free time because it's very therapeutic for me. On my days off I try to throw some hands to keep my mind clear. I spend a lot of time with my friends. I've learned to just be cool with myself. Definitely making sure I get that alone time so I can be energized and focus on the things that I need to – which is great for my mental health and my own wellbeing.
ATN: What are some of your favorite restaurants… when you are being super good… and when you are indulging?
Noah Neiman: Catch is one of my favorite restaurants in the world, even before I was partners with the owners, the amazing Eugene Remm. There is always a certain level of "welcomeness" and hospitality that I picked up from their team, which is how I treat people in general as well as in business. I love going every Saturday. It just reminds me of the early 2000s when nightlife in New York City was insane. No cell phones. Celebrities were all out partying with us normal people. Jay-Z might pick up the microphone.
There's a nice little Italian restaurant down the street in the East Village called Risotteria Melotti. It's [spearheaded by] this family from Italy – they have a farm and they grow all of their own ingredients. They make the pasta. It's all gluten-free too, which is good because I bring my mom there and she's celiac.
I live right down the street from Little India, which has all the greatest Indian restaurants. I've definitely dabbled, but I always go back to my favorites, which again, is Catch – that's my number one.
ATN: How healthy are you really?
Noah Neiman: I eat healthy for about 80% of my meals. I try to eat as much as I can – chicken, meats, whole foods and veggies – because I have to operate at a certain level and be mentally sharp. I know that if I'm eating crap all the time, I just don't feel my best. Life is flexible and you need to have fun, but I definitely make sure that I eat a ton of protein, a ton of good fats, and a ton of healthy carbohydrates.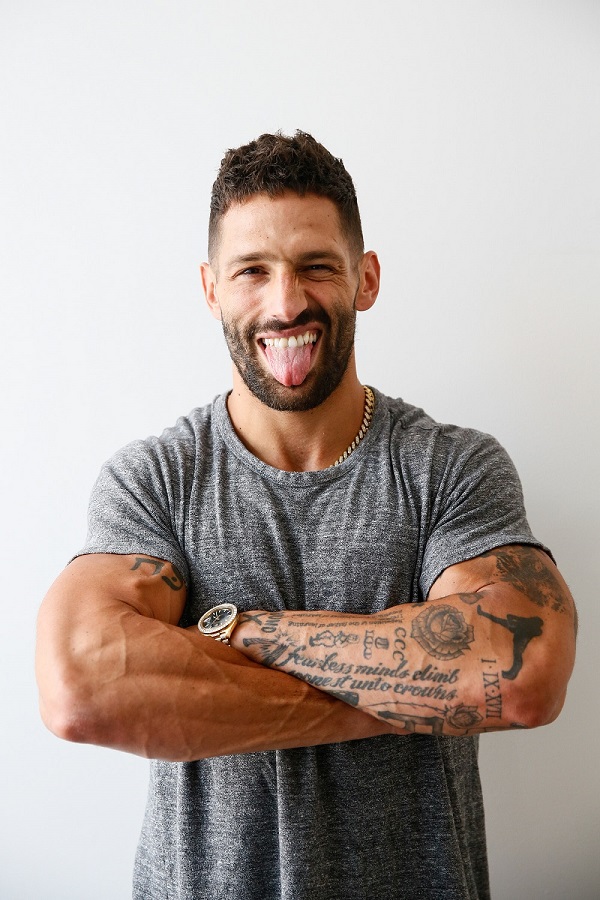 On a Sunday night when I'm watching football, sometimes I get two pizzas and I don't care. I don't wake up and feel bad like when I was a teenager trying to learn how to take care of myself. The funny thing is it actually probably helped my body composition because my body is able to process bad foods better. It really doesn't affect me physically or emotionally like it once did because I condition my body. We can train every aspect of our body. Most people don't realize how flexible and nimble the body and mind is!
There's no one specific diet that's going to work for everybody. I've been in the fitness industry since I was a kid. It wasn't my profession at first, but it was kind of one of those things where it was like a lifetime in the making. And I didn't realize that. So I grew up in Pittsburgh, Pennsylvania where GNC was founded. I was actually one of the earliest people to frequent the GNC in Shadyside. I was overweight as a kid…[along with having] ADHD and a lot of behavioral disorders. I was lashing out at my teachers and students and I was getting in a lot of trouble. I really learned what works for me through trial and error for decades. I'm 37 now and I've gone through all of the stages.
I remember I used to bring bag lunches to school filled with cottage cheese and tuna, and my friends were all eating their regular cafeteria meals. Meanwhile, I was trying to count my calories. And in all honesty, it wasn't healthy for me to do that. I became obsessive over it, like a lot of people do, especially people that have weight problems. So I definitely eat healthy, but I've learned that there's no amount of hit on my mental health that's worth feeling like I'm neglecting myself. You have to eat healthy…you wouldn't put 89 petrol in a Lamborghini!
ATN: Do you meditate? Do you use an App?
Noah Neiman: Yes, boxing is my meditation. I know that seems weird because that's so counterintuitive to what you thought about meditation. But, meditation comes in many forms. Traditional meditation, you're talking about breathing, you're talking about slowing the world down- that is one way to meditate. Meditation is just about learning your mind. I do that through boxing [for] a few reasons.
One of those reasons is if you're boxing against someone, even if you're having a lighthearted sparring, you can't live in the past because you'll get punched in the face right there. You can't live in the future, because you'll get punched in the face right there. Anything that you do that can eliminate the anxiety of the past [in the present moment] that is meditation.
ATN: Do you have a therapist?
Noah Neiman: When I was a kid I had a bevy of therapists, actually. I was always getting in trouble and I was on a lot of medication. Therapy is great and I'm a big proponent of it, but I think it was just the timing of it wasn't for me. I remember just being this kid that wanted to play sports and run around and wreak havoc, and my parents were trying to force me to sit down and talk to a therapist about all my problems and feelings I had. At that time I didn't see the value. Now in my older age I'm more learned. I know a lot of my friends who see a therapist two, three times a week and they talk about how valuable it is!
My therapist and my meditation has become kind of what I do in my day to day life, and I've found that that works for me. So, just like meditation, therapy comes in a variety of ways. I'm a big fan of therapy. I think it's important for guys and girls and everybody in between alike to find that healthy meditation, healthy therapist. But you can also find it in nontraditional ways.
ATN: What would we find on your Netflix/Hulu favorites?
Noah Neiman: Ted Lasso on AppleTV is so good. It really is just a feel-good show. Sometimes it gets a little slapstick-y. It touches on some real things like anxiety and getting in your own head. The head coach, Ted, suffers panic attacks and that is super relatable because I used to have panic attacks. They address it in a really cool way [on the show]. As much as we can have shows like Ted and have people talking about mental health openly and candidly, more power to it.
I've been watching Korean productions for about ten years now. They have a bunch on Netflix right now. Alice in Borderland is really good. I'm big on foreign films.
ATN: Fan of CBD products?
Noah Neiman: I have such a mixed relationship with nutraceuticals. Our relationship with nutraceuticals in general, not just talking about CBD, it really ties into the same underlying philosophy, which is get rich quick. A lot of people's mentality is, "I'm gonna treat my body really poorly, but I have these supplements that's gonna put a bandaid over it [to make it] all better." Supplements are just that. They're supposed to supplement a healthy lifestyle, which is food, diet, exercise, and mental health. There are benefits to CBD. There's benefits to THC! It's all about how you use it – no product is a miracle product.
ATN: Vitamin/supplement regimen?
Noah Neiman: There's certain brands that I align with that I know that I'm going to get a good source of protein. VITAL Proteins is one of my go-to brands and I've been working with them for a while. In the past I have tried a host of products – and many contain lead or quietly include other harmful ingredients. It's important to trust the brand and know about the cleanliness of the supplements. I think that it's confusing for the consumer, but I do believe in supplementing and taking certain things that are right for you and your body. I have also been taking creatine for a long time. Creatine's one of the most widely studied supplements on the market.
ATN: When you are injured how do you manage your inability to workout?
Noah Neiman: You just have to find a way to work around [the injury] and sometimes you can't. Sometimes you're literally incapacitated, which is not great. For example, I had a bicep injury on my left arm, so I used my right arm a lot. I did a lot of leg, a lot of core. It's frustrating and much harder to [do these things while injured], especially if you're training at a certain level. It's all par for the course, so you're gonna have those ankle sprains. But that's why it's so important, you know the old adage — "If you stay ready, you don't have to get ready."
My body's super resilient. I tore my left bicep and I was out for two weeks and I really should have gotten surgery. But the pain subsided because for 20 plus years I've been taking care of my body so I put it in a state where it's better able to heal itself. So I took a few days off; I started taking it slow, started doing what I could with [my] working body parts. I did a lot of low impact exercises too, like walking. Walking is a great exercise too, especially if you're recovering from an injury.
ATN: What are some of your greatest indulgences?
Noah Neiman: Probably motorcycles – I own a ton of them much to the chagrin of my mother who worries all the time. Because of my mental health past, I try to find things that really keep me present and in the moment. Growing up, I used to be really into dirt bikes and all that, and during the pandemic I was feeling disconnected. I was in this holding pattern so I felt pangs of anxiety again and I was like, "I gotta do something." So I went out and I bought a motorcycle.
When you're riding a motorcycle (and it's the same central theme as boxing) you can't be worried about yesterday because there's a car right in front of you that might have cut out and didn't see you. You can't be worried about tomorrow because that same car is right there. You gotta focus. When you're going fast on something that's dangerous you have to be present. I think motorcycles are one of my biggest indulgences just because of the endorphins coupled with the fact that you have to be present… I have to find things that are kind of extreme to keep me centered and keep me in my body!
Candace Cordelia Smith
Candace Cordelia is a Pennsylvania-based journalist and on-camera broadcaster/host, with a reporting background in wrestling, entertainment, and lifestyle. Her reporting work has been featured on websites and in publications such as Bustle, Pro Wrestling Illustrated, New York Daily News, am New York, ABC News, Yahoo!, Good Morning America, Madame Noire, Sister 2 Sister, etonline.com, Diva Dirt and The Everyday Fan. Her favorite workout influencers include Chloe Ting, Cassey Ho, Pamela Reif and Mary Braun. She still can't stand burpees and Rebbl Dark Chocolate Immunity Elixir is one of her favorite post-workout protein sips. You can follow Candace on Twitter @CandaceCordelia and on Instagram @thatgirlcandace16.