NASM Launches Updated Women's Fitness Specialization Program
The updated interactive program provides science-backed advice on women's health and fitness and will provide tools to trainers and fitness instructors to better serve their clients
The National Academy of Sports Medicine (NASM), a pioneer in fitness and wellness education and certifications, has announced an update to its Women's Fitness Specialization program, which is designed to provide the latest science on women's health. 
The updated program enables fitness professionals to design and modify fitness programming for female clients, while recognizing that women have different fitness needs depending on their current life stage. 
"Our mission is to enable trainers and fitness instructors with the best knowledge and tools to help their clients live healthier and happier lives," said Laurie McCartney, president of Ascend Learning's Fitness and Wellness brands, including NASM. "Since approximately 69% of all personal training clients are female, it is essential that fitness professionals understand the impact hormonal stages have on women's health and their fitness journeys. This interactive program arms them with the information needed to improve client results and increase their client retention."
The 14-chapter Women's Fitness Specialization examines women's health stages and how they affect their neuromuscular, skeletal, cardiorespiratory, and endocrine systems. It also covers hormone management, various training modalities, and nutrition, while providing fitness trainers insight on conducting fitness assessments and psychological elements to consider when working with women in a health and fitness setting.
See Also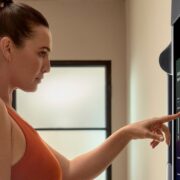 "Traditional fitness programs evolved from bodybuilding and sports competition that neglected a woman's various life stages," said NASM's Senior Content Development and Production Manager, Brian Sutton. "The update to the Women's Fitness Specialization program combines the most up-to-date and innovative female-focused research to empower fitness professionals to cater fitness training for female clients of any age, fitness level, and wellness aspirations."
Author interviews, an interactive glossary, pdf handouts, chapter quizzes, and a comprehensive practice exam are among the study aids included in the interactive e-book study materials. The updated Women's Fitness Specialization is available now on the NASM website.
Courtney Rehfeldt
Courtney Rehfeldt has worked in the broadcasting media industry since 2007 and has freelanced since 2012. Her work has been featured in Age of Awareness, Times Beacon Record, The New York Times, and she has an upcoming piece in Slate. She studied yoga & meditation under Beryl Bender Birch at The Hard & The Soft Yoga Institute. She enjoys hiking, being outdoors, and is an avid reader. Courtney has a BA in Media & Communications studies.