Miri Raises $1.2M for AI-Powered Approach to Wellness Advice
credit: Miri Health
The platform was created by Amy Kelly, a therapist, and Boris Korsunsky, an engineer who played a key role at Lyft
Miri Health, an AI platform that promises 24/7 access to wellness industry experts, has unveiled its public beta launch.
The company closed a $1.2 million pre-seed round last month, which Miri says ramped up the development of its AI-driven platform that promises users a direct line to wellness support.
The health and wellness platform says that, unlike other apps that focus on a single aspect of well-being, Miri offers a holistic approach that aims to guide users on a healthy path that promotes protection against future chronic illnesses.
Miri's pre-seed financing round was led by Sassafras Investments.
The platform was created by Amy Kelly, who serves as its CEO, and Boris Korsunsky, who serves as CTO. Korsunsky, an engineer who played a key role at Lyft and was the lead engineer for Sparked.com, wrote on LinkedIn that he was inspired by the potential for good that tech can provide and says Miri Health is his "ideal company."
Upon visiting Miri Health, users are immediately able to interact with an AI-powered health and wellness companion and ask a question. Miri Health then responds with related questions to fine-tune its responses before diving deeper into overall health to provide actionable advice.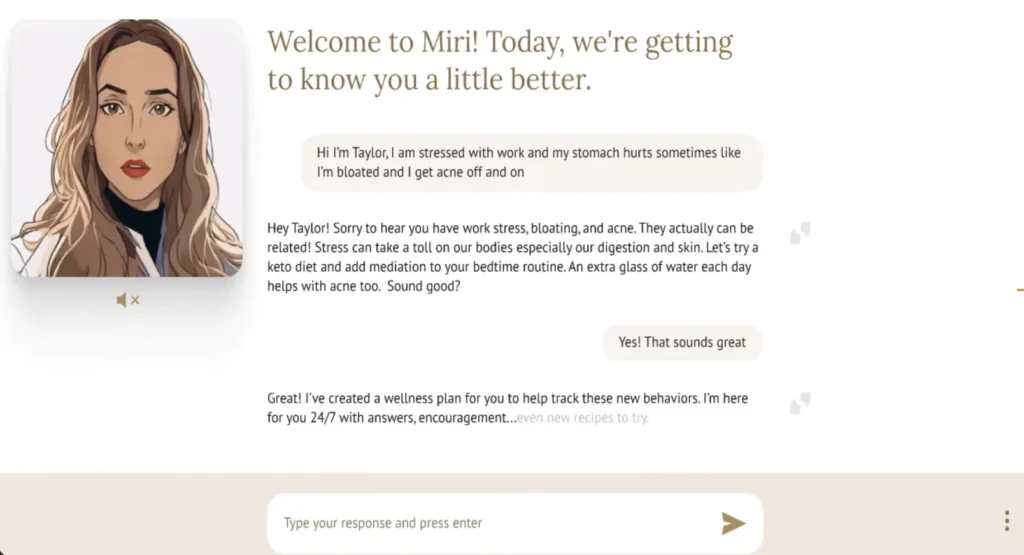 "Sometimes we find ourselves searching the internet for information about health concerns, and having an AI that will remember who we are and converse with empathy will revolutionize this industry," said Spencer Stewart, CEO of Sassafras Ventures. "We made very strong personal connections with the founders of Miri, and we are confident that this will be a universally beneficial use of AI technology that will provide quality health guidance to users."
Courtney Rehfeldt
Courtney Rehfeldt has worked in the broadcasting media industry since 2007 and has freelanced since 2012. Her work has been featured in Age of Awareness, Times Beacon Record, The New York Times, and she has an upcoming piece in Slate. She studied yoga & meditation under Beryl Bender Birch at The Hard & The Soft Yoga Institute. She enjoys hiking, being outdoors, and is an avid reader. Courtney has a BA in Media & Communications studies.