Lululemon Adds Lightweight Performance Hijabs to Activewear Line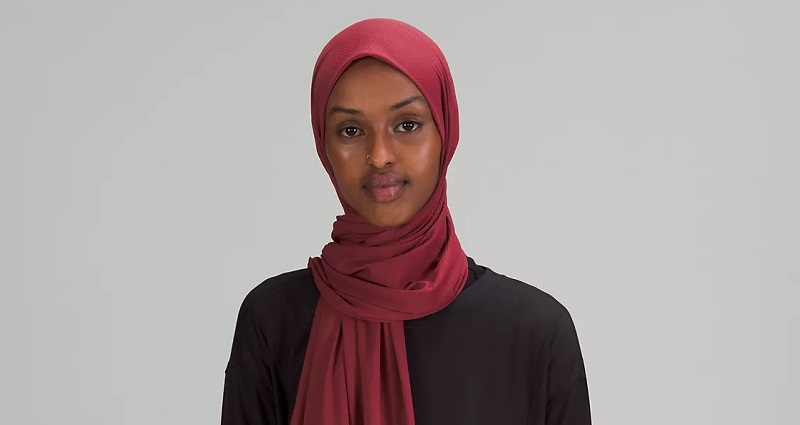 The breathable sweat-wicking hijabs offer comfort & coverage
Lululemon quietly introduced lightweight performance hijabs, designed for running and training, to its activewear line earlier this week. Fans of Lululemon are praising the athleisure brand for including hijabs.
"I have no need for one but my heart swells seeing even more availability and inclusivity for everyone your new stock advertises. First you corrected your sizing and now this….. This just makes me so happy! Well done Lululemon!" one commenter posted on Lululemon's site.
Other reviews praised the comfort of the new hijabs and suggested that Lululemon release more in different colors. The hijabs, $42, are currently available in black and poolside, a bright blue. 
The performance apparel and footwear company says the lightweight hijabs are crafted in Lightweight Luxtreme fabric, which is sweat-wicking, quick-drying, and offers four-way stretch. There is also room in the back for a bun or ponytail, as well as reflective details.
A scarf–style hijab, $38, is long enough to be tied, twisted, or tucked for customized workout comfort.
Lululemon is far from the first major retailer to sell a sports hijab. Adidas, Under Armour, and Uniqlo have been selling hijabs, and when Nike's Pro Hijab was released in 2018, it was widely panned. Nonetheless, the addition of performance hijabs speaks to Lululemon's intention to provide more inclusive workout gear for women. 
The athletic apparel retailer has been putting a 'woman first' approach into practice for 2022. Earlier this spring, the activewear company debuted Blissfeel, its first-ever running shoe. Lululemon has stated that active performance shoes have neglected the design needs of women.
Later this year, Lululemon is expected to release an OTM Pull on Hijab.
Courtney Rehfeldt
Courtney Rehfeldt has worked in the broadcasting media industry since 2007 and has freelanced since 2012. Her work has been featured in Age of Awareness, Times Beacon Record, The New York Times, and she has an upcoming piece in Slate. She studied yoga & meditation under Beryl Bender Birch at The Hard & The Soft Yoga Institute. She enjoys hiking, being outdoors, and is an avid reader. Courtney has a BA in Media & Communications studies.