Hermès Hosting Fit Pop-Up in Los Angeles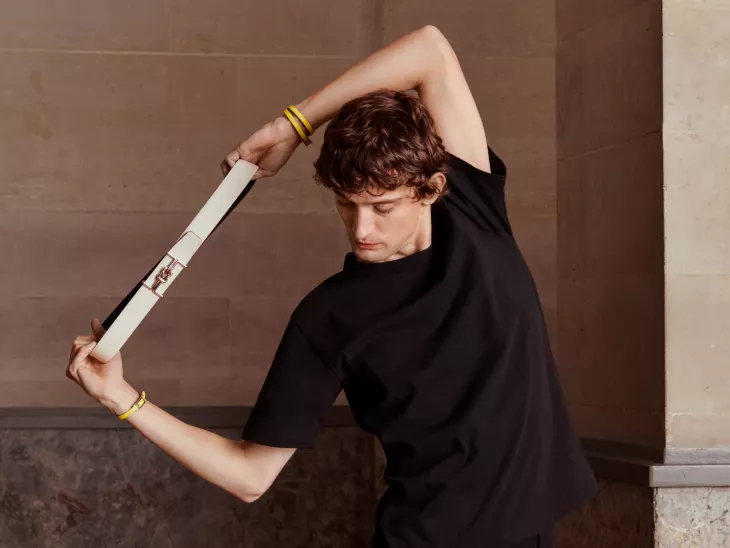 Those on the West Coast can experience luxury Hermès accessories with a 'fitness twist' in July
The Hermès Fit pop-up (HermèsFit) is coming to Hollywood Athletic Club in Los Angeles this summer. The luxury fashion brand will host a fitness x fashion experience in which its fashion accessories will be combined with athleticism.
The event takes place July 21 to 24.
"Practice stretching with belts, yoga with silk scarves, and voguing with hats," Hermès shared about the upcoming event on its website.
From 11 a.m. to 9 p.m., the Hermès Fit pop-up in Los Angeles will offer a climbing wall, unique fitness classes, DJ sets, and fresh juices. Evening performances will be held from 7 to 9 p.m. for those 21 and older.
Carrè Yoga, Belt Stretching, Kickboxing with Bangles, Voguing with Hats, and Mirror Mirror are among the classes available. Each 30-minute fitness session includes a selection of Hermès accessories for the class.
Last fall, Hermès hosted a similar fitness pop-up event on the East Coast in Brooklyn, NY.
To sign up for the Hermès fitness pop-up in July and book an immersive fashion/fitness class, head here.
Courtney Rehfeldt
Courtney Rehfeldt has worked in the broadcasting media industry since 2007 and has freelanced since 2012. Her work has been featured in Age of Awareness, Times Beacon Record, The New York Times, and she has an upcoming piece in Slate. She studied yoga & meditation under Beryl Bender Birch at The Hard & The Soft Yoga Institute. She enjoys hiking, being outdoors, and is an avid reader. Courtney has a BA in Media & Communications studies.