Gainful, Performance Nutrition Brand, Hits a Bullseye with Target Stores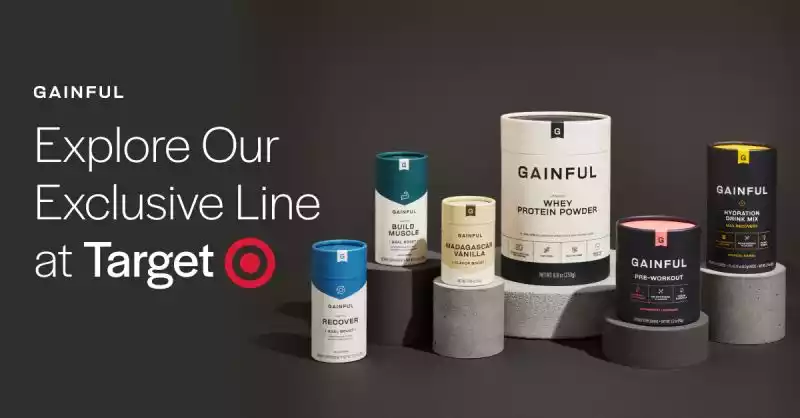 The nutrition brand recently celebrated a million orders at its NYC office and is now moving into the retail space with Target
Gainful, a customizable performance nutrition brand, is now available at Target. The direct-to-consumer wellness company made the announcement on its social media pages.
"Gainful is live at Target! 🎯 How does a brand committed to personalization, scale to brick-and-mortar retail? By creating a first-of-its-kind customizable protein product," the nutrition brand shared on LinkedIn.
Before the announcement was made regarding Target, the brand teased that it would be building upon its personalized direct-to-consumer success and would move into the retail space.
"Since our beginnings, we've aimed to make it easier to find high-quality, clean supplements tailored to your needs. Until now, we delivered that through 1-1 personalization via Gainful.com. Starting today we're expanding our impact, inviting Target guests to build their own custom protein blend."
Gainful says it's now giving guests the opportunity to take home a customized protein blend that meets their needs. The brand added that shoppers will gain access to a Target guest experience on Gainful.com with "curated nutritional guidance and tools, clean recipes formulated by nutrition and fitness experts for maximum effectiveness, and a direct line to a team of Registered Dietitians."
The brand posted a clip of Gainful founders Eric Ji Sun Wu and Jahaan Ansari seeing their nutrition brand on the shelves at Target for the first time. The two launched the wellness company in 2017.
While landing in Target was a dream come true for the founders, the company said it was important for the Gainful brand to stay true to its roots by delivering personalized performance nutrition even in a brick-and-mortar retail location.
Gainful says it created a system that allows Target guests to customize a protein blend through a 3-step process out of 11 SKUs (two protein bases, three goal boosts, and four flavors), resulting in over 70 potential protein blends.
The protein bases are either plant-based protein or whey, and the four flavors to choose from are rich chocolate, Madagascar vanilla, strawberry cream, and cinnamon toast. Goal boosts include muscle, lean, or recovery options.
Target stores, a fan favorite among the gen Z and millennial groups, are looking to attract young wellness enthusiasts with such health-focused offerings. Gainful is priced appropriately for younger consumers, ranging from $3.99 to $19.99 for its protein bases and add-ons.
Younger generations are quickly shaping the future of nutrition and are especially interested in plant-based protein. According to Allied Market Research, millennials account for a sizable share in terms of consumption of the protein supplement market, as they look to adopt a healthy lifestyle. This young segment of consumers dominated the global protein supplement market in 2018 and is expected to continue through 2025.
Cassandra Jones, senior vice president of merch essentials and beauty at Target, recently shared in a blog post that Target guests are paying close attention to what they put in and on their bodies, from bath and skin care to vitamins and supplements – and that the retailer is responding to this focus with suitable brands.
Gainful raised $7.5 million in Series A funding in 2021.
Courtney Rehfeldt
Courtney Rehfeldt has worked in the broadcasting media industry since 2007 and has freelanced since 2012. Her work has been featured in Age of Awareness, Times Beacon Record, The New York Times, and she has an upcoming piece in Slate. She studied yoga & meditation under Beryl Bender Birch at The Hard & The Soft Yoga Institute. She enjoys hiking, being outdoors, and is an avid reader. Courtney has a BA in Media & Communications studies.