Former Fitfluencer Sued by Texas, Pivots from Fitness to Faith
Brittany Dawn Davis is being accused of misleading fitness & nutrition clients & is being called a "grifter" who has turned to religion to distract from her legal troubles
Fitness influencer-turned-faith preacher Brittany Dawn Davis, 30, is being sued by the state of Texas in a case study for popular fitspo influencers with business platforms. The bubbly blond Dallas-based influencer, who has eyelashes that seem to reach the heavens, is accused of misleading clients suffering from eating disorders.
Ken Paxton, Texas attorney general, has filed the lawsuit against Brittany Dawn Fitness LLC. The suit is seeking between $250,000 and $1 million for civil penalties and attorney fees.
Deceptive trade practices? Former clients say plans were not customized to their needs
BDawnfit.com is still active but consumers are unable to purchase plans
According to court documents obtained by People, Davis began selling online fitness packages, customized nutritional guidance, and fitness coaching in 2014. The prices for the packages ranged from $92 for a one-time consultation to $300 for coaching and training.
The lawsuit alleges that the plans were not customized as advertised and that Davis ignored consumer complaints, one of whom nearly passed out due to inadequate nutrition. Instead of responding appropriately, Davis only offered partial refunds to consumers who reported complaints.
The court documents also reveal that Davis openly disclosed that she overcame disordered eating.
In the lawsuit, one client says she suffered from anorexia and selected Davis because of her claims. Davis then took on the client and is alleged to have been offered a low-calorie diet.
While Davis denies taking on clients with eating disorders, 14 former clients who requested refunds had referenced eating disorders in their complaints.
One client from Wisconsin said she paid for a customized plan and said her experience pushed her back into her eating disorder.
From fitness to faith…and baptism parties
Some critics believe Davis is now marketing herself as a faith leader as part of a new business plan
Davis has since left the fitness community, and she describes her new mindset as having drastically changed for the better. She discusses her thoughts at the 18:12 mark in this video.
In the clip, she mentions the pressures she says she experienced as a fitness influencer.
While Davis continues to work out, she has given up on fitness coaching. Her new business platform, She Lives Freed, hosts religious retreats and conferences. The former fitness influencer sells tickets for her faith-based events, with one coming up next month.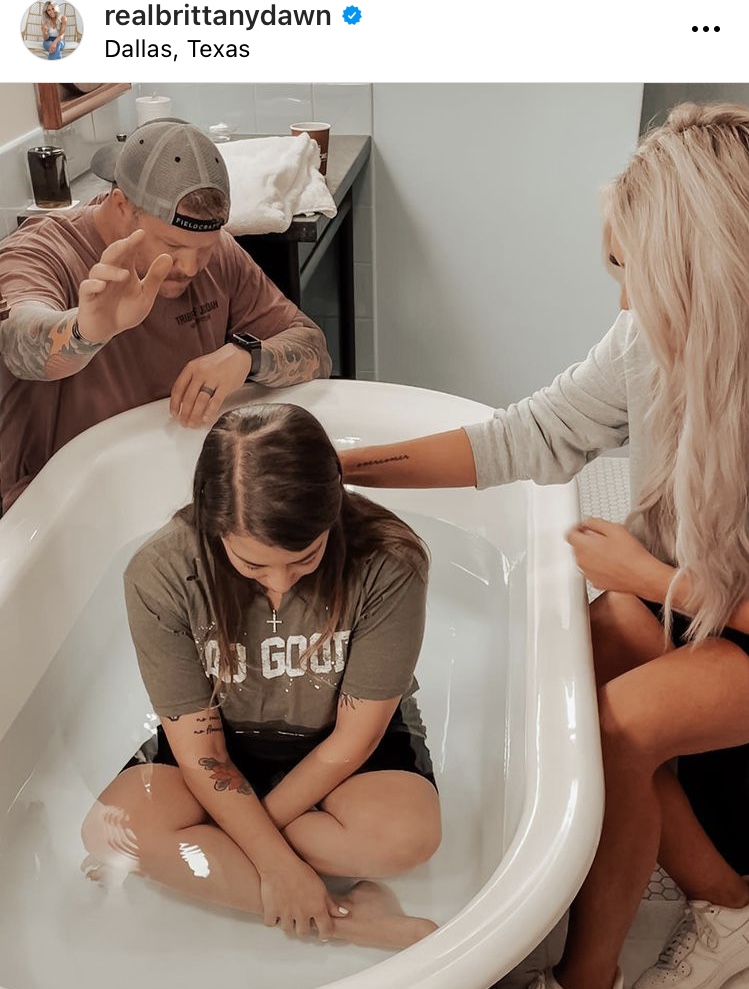 Her social media has transformed from fitness to religion, where she posts about "heavenly glow-ups" and hosting baptism parties in hotel rooms. Her shift from fitness to faith has left many with questions and has led to criticisms.
In her post about the baptism party, one commenter wrote, "Stop!!!!! You're not even a pastor! You just scammed women out [email protected]$10000's of dollars based on their weight. You are ridiculously embarrassing to the Christian community."
"Are you going to address any of the articles coming out? I just want to see your side and how you're handling what's going on with the state of Texas. No hate," one commenter gently inquired on another religious-themed post.
An entire subreddit is dedicated to Davis, with one Redditor, who received treatment for an eating disorder, suggesting a theory as to why the former fitness consultant has pivoted towards faith:
"She definitely does prey on women with insecurities. I was a personal trainer, and as a personal trainer you CAN NOT train people with eating disorders, much less prescribe meal plans. Extremely dangerous. Because [eating disorders] are about control, it makes sense that [Davis] would be attracted to a very controlling and restrictive religion. She is definitely controlling and restricting her body in other ways."
Her former fitness Instagram page has been set to private with a note that it's been deleted at 557K, but fitness coaching may not be entirely over for Davis — above her email address is a quote that reads, "A setback is a set up for a comeback."
@therealbrittanydawn, the new account for Davis that focuses on her religious lifestyle, has over 460k followers.
Courtney Rehfeldt
Courtney Rehfeldt has worked in the broadcasting media industry since 2007 and has freelanced since 2012. Her work has been featured in Age of Awareness, Times Beacon Record, The New York Times, and she has an upcoming piece in Slate. She studied yoga & meditation under Beryl Bender Birch at The Hard & The Soft Yoga Institute. She enjoys hiking, being outdoors, and is an avid reader. Courtney has a BA in Media & Communications studies.