Create and Cultivate NYC 2022: Amplifying Women's Voices in Entrepreneurship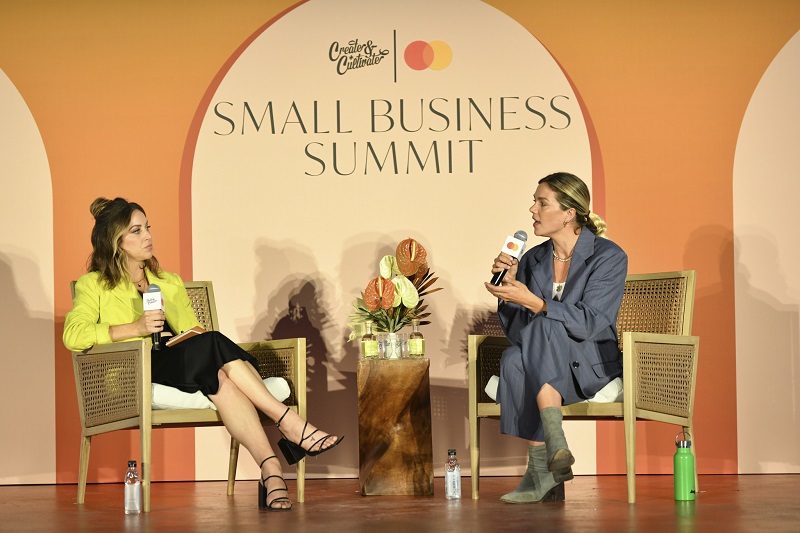 Create and Cultivate hosted its Small Business Summit in NYC on October 15th. Speakers included Ty Haney, Former Founder & CEO of Outdoor Voices, and Cyndi Ramirez, Founder & CEO of Chillhouse. The full-day event also had small, interactive sessions to guide future founders through their entrepreneurial journeys.
Create and Cultivate hosted the Small Business Summit in NYC on October 15, 2022, in partnership with Mastercard. Entrepreneurs with varying levels of experience gathered to discuss and receive advice on the challenges and opportunities of ownership.
The event had sessions with topics ranging from content planning, legal guidance, budgeting, and cybersecurity. Create and Cultivate's Small Business Summit also had a range of speakers providing perspective on their own founding journeys, as well as providing advice for entrepreneurs. Many of the speakers and budding entrepreneurs focused on health and wellness in various forms, from fitness, to skincare and mental health.
Ty Haney, Founder & CEO of Try Your Best + Joggy, as well as the former Founder & CEO of Outdoor Voices, was the keynote speaker. A longtime leader in the health and wellness space, Haney is exploring new spaces in the industry with Try Your Best and Joggy after her success with Outdoor Voices. Try Your Best is a web3 experience where brand loyalists can influence and receive rewards for their online behavior. The platform uses Avalanche, an eco-friendly, proof-of-stake blockchain. Joggy is a line of plant-based energetics to help consumers maintain focus and promote calmness before bed. Its CBD+ formulations use a proprietary, water-based, lipid encapsulation delivery system, which supports 4x more absorption compared to conventional oil-based dosages.
Haney spoke to Athletech News about the web3's potential influence on the health and wellness industry, "Using technology to incentivize frequency of activity and reward for that is what we're envisioning, and it's quite cool. It's going to allow people to be more consistent with their fitness. For instance, you could get rewarded for running seven days in a row. The reward is going to really create a flywheel effect around any mission-driven company, but fitness in particular is perfect because it's all about connecting the dots on a daily basis. So, we're using the tool to get people to be more active by rewarding them."
The event also featured a pitch competition with a winning prize of $10,000, headshots for attendees, and happy hour mixers. Other featured speakers and attendees included Jaclyn Johnson, Founder & Vice Chairman of Create and Cultivate and Kate Spies, CEO of Create and Cultivate, as well as Emma Hernan, Entrepreneur, CEO, and Realtor ("Selling Sunset") and Tiffany Sorya, Founder & CEO of Novel Education Group.