Major Rebrand: Beachbody Transforms to BODi, Announces Q4 2022 Results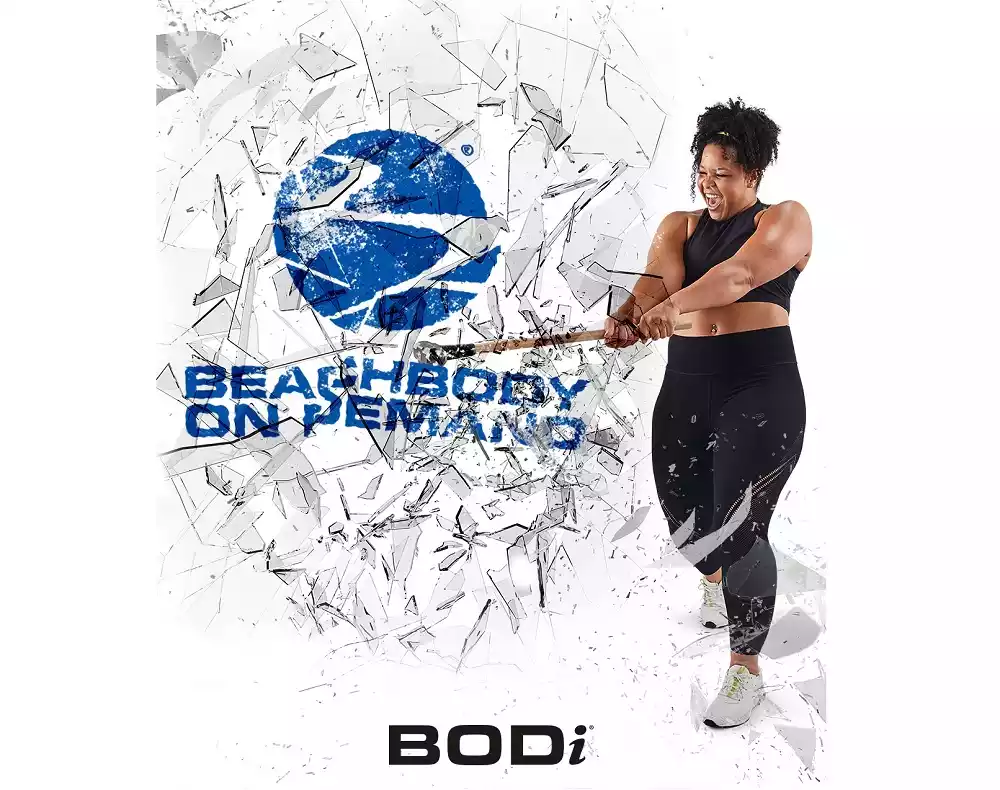 With the new rebrand, BODi is ushering in a mission of health esteem and inclusivity as it rejects the former 'fitness and diet industry playbook'
Beachbody, the fitness company known for health shakes and some of the world's most popular fitness programs, has announced a significant rebranding with the launch of BODi, which the company says rejects the legacy fitness and diet industry playbook. Instead, BODi aims to promote a positive, healthy lifestyle that encourages inclusivity and discourages self-criticism.
The company says it found inspiration to change after witnessing an increase in mental health challenges due to the pandemic, as well as the realization that 74% of Americans are still overweight or obese, despite efforts by the fitness industry.
"The transformation of our brand will inspire a larger shift across the entire industry, which largely ignores the emotional and mental consequences of its traditional business model," said Carl Daikeler, co-founder, chairman, and CEO of BODi.
"Instead of promoting a healthy lifestyle based on self-criticism, we want to help people appreciate their intrinsic value, so they are pursuing their health and fitness goals out of affection for themselves, not judgment or comparison to any ideals," Daikeler continued.
"This category is called Health Esteem. This is where the inspiration for our rebrand came from and what the entirely redesigned BODi platform supports. It is a very important moment for the industry, because it opens a category that will appeal to the 150 million adults in the United States, many of whom are alienated by the exclusivity of the legacy industry's playbook."
BODi's CEO believes the health esteem category will open significant net new demand among those who have felt rejected by the legacy fitness and nutrition industry.
"At the end of the day, what we're most concerned with is helping everyone feel seen and appreciated with disregard to size or shape, and in doing so, help them achieve their version of a healthy fulfilling life," he tells Athletech News.
"If that brings more people to BODi, then that's great because it means more people are not only improving their physical health, but their self-esteem as well. We want as many people as possible to benefit from our personalized, comprehensive and effective solutions that enhance their individual lifestyle preferences."
As part of the reintroduction, an app and fitness program called 'For Beginners Only' has been unveiled. It will provide fitness enthusiasts of all levels with an "approachable starting point" for their wellness journey. BODi employs a block periodization training structure that consists of 30-minute workouts five days a week for three weeks, followed by an 'UP' week in which the member can scale back workouts, focus on recovery, and reflect on progress.
A new channel for monthly Mindset master classes has also launched.
Perhaps most daring is BODi's "You Will Fail" marketing campaign. A 60-second spot was created in-house, and, as Daikeler points out, the campaign is about success, as confronting the reality of setbacks is familiar to everyone.
"While the industry at large is quick to offer solutions to help people get healthy – in general, it is very judgmental of people who encounter struggles. That alienates the very people who need help the most," Daikeler tells Athletech News.
"Instead of expecting our customers to "just figure it out," we take it on with them – acknowledge that it's not easy for everyone, and provide recovery tools to help people not see a setback as failure, but as a reality which is simply part of the journey. It's so important to acknowledge that failure is not defeat. Everyone experiences some kind of failure in their life at one point, but the promise that they can confront and overcome that failure when they have the right tools and a flexible approach is what resonates with people."
Q4 2022 Results
Daikeler referred to 2022 as a "demanding year," and said BODi delivered fourth-quarter revenue in line with expectations. The fitness company reported total revenue decreased 31% to $148.2 million compared to the prior year.
Last fall, the California-based subscription health and wellness company received a deficiency letter from the New York Stock Exchange (NYSE). BODi has made moves to consolidate its operations into a single platform to centralize its technology, marketing, and content investments. BODi said it reduced its nutrition SKUs and bundle configurations from 190 to five.
The fitness company also confirmed it doesn't foresee the need for additional capital and that its plan to simplify and streamline is working.
"The business implications of these changes are compelling. This consolidation simplified what our network of BODi partners offer. We used to call them Team Beachbody Coaches, now we call them partners," Daikeler said on BODI's recent Q4 earnings call.
BODI's CEO added that this approach allows for the field to spend less time training teams and instead allows them to focus more on helping people engage with the platform.
"That dramatically increases their income opportunity, which should in turn attract more people to sign up to be BODi partners," he said.
Pricing changes & subscriber growth
In Q4, which saw shares drop after the release of Q3 results, digital revenue decreased 16% to $68.7 million, and digital subscriptions decreased 23% to 2.0 million.
BODi introduced updated pricing last September, adjusting the premium app to $179 annually from $298. Most of BODi's existing subscribers are enrolled in the basic BOD program at $120, reported Marc Suidan, CFO.
Those members will then transition to the $179 BODi platform as their subscription is renewed – and the company says it hasn't received pushback from its partner network.
"Since we launched the new BODi pricing in September, our BODi subscriber file size has been growing in a healthy way. So while our overall digital subscriber base in Q4 contracted, BODi is growing. Additionally, we are finding that BODi subscribers have a much higher attach rate," Suidan said.
Expanding the market reach by focusing on feeling
BODi's leadership said the company spent 2022 considering those who have been left behind by the traditional fitness and diet industry, noting that the majority of fitness consumers rejected the notion that they are only good enough if they lose weight.
BODi was surprised by the success of their 4 Week Gut Protocol and Fire and Flow programs, which concentrate on how a consumer feels instead of just fitness results.
"It became clear to us that our transformation model of P90X and INSANITY could be significantly complemented by an ongoing plan that focuses on how people feel today so they stay engaged in the process and appreciate their sense of well-being along the way," Daikeler said. "This represents a significant business opportunity for us because the data is clear that the legacy industry is failing at this."
By focusing on self-esteem, members will gain a sense of happiness – which many others in the fitness industry have overlooked, said the company.
"This is what's been missing from the model, a comprehensive solution that fits with real life, that delivers happiness on day one, not just physical results at the end of a program," Daikeler noted.
BODi promotes dessert as its most important strategic initiative
BODi execs said they were "disappointed" with nutrition revenue at $75 million, down 23% year-over-year, but that it plans to turn things around.
BODi confirmed its expanding Shakeology to become the first superfood nutrition shake and now the world's first superfood dessert. 
"A smart dessert, if you will, with hundreds of recipes that take advantage of the incredible flavor variety of the Shakeology product line," Daikeler said of the dessert initiative, adding that the healthy desserts represent a $48 billion market opportunity for BODi.
"There are tens of millions of people who may not be ready to start one of our fitness or eating plans, but who will absolutely take the logical first step of swapping their normal dessert choice for a Superfood Dessert that actually helps them lose weight and makes them feel great."
The fitness company confirmed that the healthy dessert alternative would be BODi's largest and most important strategic initiative. However, as BODi points out, the superfood dessert is not a new product, and there are no additional product development costs.
Payment simplification
Daikeler shared that other operational improvements are in the works this year, including simplifying the digital experience by "reducing clicks at checkout" and adding payment options for PayPal and Apple Pay later this year.
Connected fitness
BODi reported connected fitness revenue decreased 87% to $4.8 million, and approximately 3,700 bikes were delivered in Q4.
"Our $50 a month bundle for the bike, and the BODi subscription continues to be our most popular bike skew," said Suidan. However, he still believes the company needs to create a greater awareness of its connected fitness offering.
"Starting this month, as more users transition to the BODi app, those subscribers will view the bike workout options, making it easier to market this offering to them," he shared.
For the first time, the majority of BODi subscribers will be exposed to the biking content, which used to be behind a paywall. With the visibility of the trainers participating in rides, BODi said it expects demand for this offering to be incremental.
While BODi's connected fitness gross margin continues to be negative, the company said it's leveraging its bike studio bundle to drive bike sales without "competing in price wars."
As Suidan points out, BODi's data shows that bike consumers are "very engaged in workouts" and have a considerably lower churn rate.
A BODi subscription unlocks BODi Blocks and Mindset content, workouts, and programs from notable trailers such as Shaun T, Autumn Calabrese, Joel Freeman, and Jericho McMatthews. 
BODi is betting big on a holistic approach
BODi said it expects subscription declines for the year but is resolute in attracting "higher value customers" and believes its new health esteem platform will result in more robust consumer engagement and improve retention over time.
"We are excited by the preliminary results, and this is the foundation to bring us back to revenue growth," Suidan said.
Courtney Rehfeldt
Courtney Rehfeldt has worked in the broadcasting media industry since 2007 and has freelanced since 2012. Her work has been featured in Age of Awareness, Times Beacon Record, The New York Times, and she has an upcoming piece in Slate. She studied yoga & meditation under Beryl Bender Birch at The Hard & The Soft Yoga Institute. She enjoys hiking, being outdoors, and is an avid reader. Courtney has a BA in Media & Communications studies.