Award-Winning Author & Journalist Michael Pollan to Teach Intentional Eating MasterClass
Pollan's class is now available on MasterClass and will help members redefine their relationship with food
Michael Pollan, the New York Times best-selling author, has signed on to teach an intentional eating class exclusively on Masterclass, an educational streaming platform that hosts classes on a variety of topics. Pollan will cover topics ranging from food chains to dinner preparation, encouraging his audience to get to know their food and adopt a diet that is enjoyable, healthy, and sustainable.
Pollan has authored nine books, including 2009's "Food Rules: An Eater's Manual," a short work that focused on his key advice for a healthy diet: "Eat food. Not too much. Mostly plants." He recently released his four-part docuseries, "How to Change Your Mind," on Netflix, which explores the history and uses of psychedelics.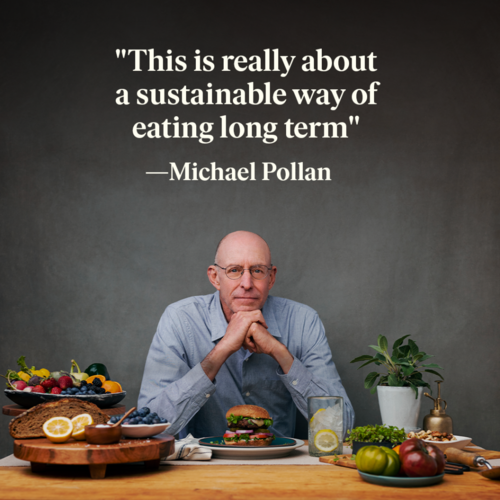 The author's class is now available on MasterClass, where subscribers with an annual membership get unlimited access to all 180+ instructors.
"This class is not about learning some new short-term diet. This is really about a sustainable way of eating long-term." Michael Pollan says in a trailer for the new MasterClass.
"Michael has spent over 30 years researching and reporting his findings around how to eat more ethically, healthfully and sustainably," said David Rogier, founder and CEO of MasterClass. "In his class, he's now breaking down everything he's learned, teaching MasterClass members how to live a better and happier life by embracing easy-to-implement food habits that have a positive impact on our bodies and the society around us."
Pollan will discuss going beyond food labels and making ethical food choices, intentional eating, systemic injustices, the four food chains, and his simple food rules that result in eliminating ultra-processed foods, excessive eating due to food corporations' psychological tactics, and the benefits of a plant-based diet.
The best-selling author will also discuss technological advancements in the food industry, particularly plant-based meats and milks, and will teach his MasterClass students about finding joy in cooking and the benefits of communal meals.
Members of the MasterClass will be encouraged to complete assignments such as keeping a food journal, tracking weekly spending, and locating local food vendors, all in an effort to help them eat more intentionally.
"Food matters. It doesn't just matter to your health, it matters to the environment, to the animals, to the community and to your family," Pollan said. "Throughout my life, I've written about agriculture, nutrition and cooking to learn more about the food that affects every aspect of our lives, and my goal for this class is to help members develop a sustainable way of eating for the long term."
Courtney Rehfeldt
Courtney Rehfeldt has worked in the broadcasting media industry since 2007 and has freelanced since 2012. Her work has been featured in Age of Awareness, Times Beacon Record, The New York Times, and she has an upcoming piece in Slate. She studied yoga & meditation under Beryl Bender Birch at The Hard & The Soft Yoga Institute. She enjoys hiking, being outdoors, and is an avid reader. Courtney has a BA in Media & Communications studies.