Strength Training Fitness App Ladder Raises $6.5M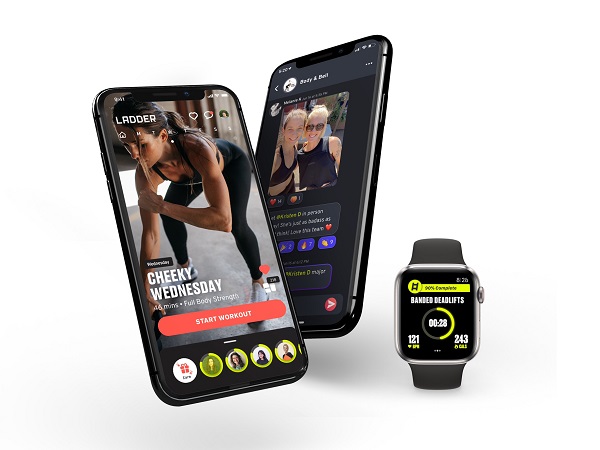 The fitness start-up was named the Best Strength Training Fitness App in 2021 by Women's Health.
Ladder, the fitness app that was named the best strength training app in 2021 by Women's Health, has just closed on a $6.5 million seed funding led by LivWell Ventures. The Austin-based company created and launched its app during the height of the pandemic and quickly became known as the "Slack of Fitness," comparing it to the team communication platform.
The strength-based training app prides itself on attracting consistent fitness buffs who thrive with a training routine but lack time to plan daily workouts. Ladder uses a single program with daily workouts crafted by an expert coach, making it easy for those who have busy lives. The monthly-subscription app provides video demos for each movement and coaching, and opportunities for social experiences. Ladder says the social component helps with accountability and builds a community among those who share a passion for fitness.
Athletech News recently spoke to Jennifer Jacobs, strength and conditioning coach, who partnered with Ladder in 2020, providing her J METHOD program. The former Peloton Senior Instructor said that the app creates meaningful connections.
"Ladder Teams is an app like no other app out there. The Ladder Teams platform not only helps make the J METHOD accessible to so many more people, but it creates community and accountability in unique and creative ways. It looks at the experience within the app from a holistic 360 approach and is constantly improving the experience for the user by creating meaningful connections, thus creating a stronger community. I believe that Ladder Teams is exactly the type of platform that will rise to the top and will be successful in an industry that is quickly becoming more and more digitized," Jacobs said.
Ladder acknowledges that many of its members will use its app when returning to the gym, but says that the pandemic has changed the workout model for some users. The company notes that the pandemic has led many to become accustomed to working out at home with minimal equipment and the strength-training app. Ladder says that its users have realized that its app provides an intense workout (and results) in the comfort of their homes. The fitness company reports that 94% of its members have made the Ladder app its primary or only training program.
"Ladder gives our members everything they need for efficient strength training to achieve their fitness goals," said Greg Stewart, Ladder CEO. "Before Ladder, they were struggling to plan their own workout programs. As busy professionals juggling demanding careers and families, they lacked the time or expertise to plan their daily workouts. Settling instead for random online content or cardio-based apps that offer a buffet of workouts without any real roadmap, they were losing motivation, not seeing results, and wasting precious time."
Ladder will use the funding to create additional programs, like its recent Boundless program, increase research and development, and focus on hiring and marketing.
Other Ladder investors include Keller Capital, Brett Hurt of Hurt Family Investments and former Co-Founder & CEO of Bazaarvoice, NFL wide receiver Danny Amendola and Co-Founder & CEO of Athletic Brewing Bill Shufelt.
"Ladder fits in perfectly with our investment theme of challenging industry norms," said Livwell Ventures founder Doss Cunningham, who also serves as the chairman and CEO of Nutrabolt, the world's largest independently owned sports nutrition platform. "They have shown that the key to fitness consistency and ongoing progress isn't just an expert coach and having a plan, but also the relationships and social experiences we build through working out together."
Courtney Rehfeldt
Courtney Rehfeldt has worked in the broadcasting media industry since 2007 and has freelanced since 2012. Her work has been featured in Age of Awareness, Times Beacon Record, The New York Times, and she has an upcoming piece in Slate. She studied yoga & meditation under Beryl Bender Birch at The Hard & The Soft Yoga Institute. She enjoys hiking, being outdoors, and is an avid reader. Courtney has a BA in Media & Communications studies.