Fhitting Room & JEDI Movement – CEO & Lead Interview
Fhitting Room founder & CEO Kari Saitowitz and lead trainer Carlos Davila speak with Athletech News about the JEDI Working Group which stands for justice, equity, diversity and inclusion.
"The financial devastation brought by COVID-19 has consumed the dialogue in our industry at the moment. But, the good news is that the pandemic has been a call to action bringing our industry together, and I am hopeful that once we effectively do so, we will do a better job as an industry on many fronts, including promoting people of color." – Fhitting Room CEO Kari Saitowitz
In February when Athletech News started digging deeper into Diversity and Inclusion within the Fitness Industry we received incredible response from the community about progress and initiatives being made to address critical issues surrounding race.
Over the course of 2021, we will make it one of our priorities to highlight and promote these movements in the hope of supporting a more inclusive tomorrow for the industry. We encourage our readers to continue to share with us their stories and strategies to help others transform their companies and communities.
Fhitting Room is one of those incredible stories. Fhitting Room is a New York-based fitness studio that prides itself in delivering heart, health and happiness through personalized, functional, group training. During 2020, employees of Fhitting Room, led by Carlos Davila and with support of founder Kari Saitowitz, launched an inspiring initiative to promote diversity within the industry. We are inspired by their passion and commitment to the work they are doing.
---
About Fhitting Room: Founder and CEO Kari Saitowitz "took her love of planning unique consumer experiences to fill a gap in the fitness industry: a way for everybody to reap the benefits of a one-on-one personal training session within a motivational group fitness setting."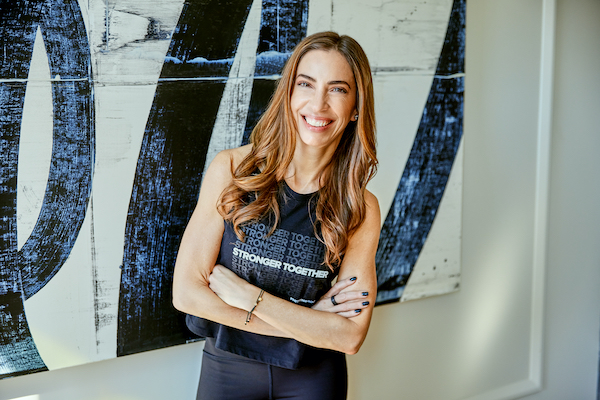 Back in March of 2012, "Kari sent an email to a close friend with the subject line 'Gym Idea,'" and in less than a year, "the first Fhitting Room studio opened on Manhattan's Upper East Side."
After six months, "the lease for Fhitting Room's flagship location was signed, followed by Fhitting Room Upper West Side in 2017." The fitness studio's "signature programming combines high intensity intervals, strength training, varied exercises and functional movements for an effective total body workout."
"In 2019, Fhitting Room started offering online workouts available anytime, anywhere through Fhitting Room On Demand. 2020 was the year that rocked the world and the year that uncovered Fhitting Room's ability to deliver a 5-star 'in-studio' experience virtually. Fhitting Room LIVE! pairs the convenience of digital with the power of small group fitness classes, workouts adjusted to each individual in real time."
---
In 2020 Fhitting Room announced an initiative called the JEDI Working Group which stands for justice, equity, diversity and inclusion. It is defined by the following:
"Justice — Social justice is the view that everyone deserves equal economic, political and social rights and opportunities regardless of how they identify or are identified.
Equity — Equity is the state, quality, or ideal of being just, impartial and fair. This concept is similar to 'fairness.'
Diversity — Diversity means having a range of people with various racial, ethnic, socioeconomic, and cultural backgrounds and various lifestyles, experience, and interests. Having a variety of individuals and points of view represented.
Inclusion — Inclusion is the culture in which the mix of people can come to work, feel comfortable and confident to be themselves, and work in a way that suits them. Inclusion will ensure that everyone feels valued and more importantly, add value."
The JEDI working group consists of FhitPROs (Fhitting Room trainers), Fhitdesk (Fhitting Room desk employees), and individuals from management roles across the organization who are committed to coming together to strategize and facilitate projects surrounding the topics of Diversity and Inclusion. This includes internal education opportunities for staff as well as externally facing projects such as "Strength against Racism" and benefit classes focused on Black History Month, Hispanic Heritage Month and Pride. These programs exist to engage, educate, and advocate for all members of the community.
There were important themes that stood out during conversations with founder Kari Saitowitz and Carlos Davila, who leads this group and holds the position of DIO (Diversity and Inclusion Officer) in addition to his position as FhitPRO. They included the ability to create impact fast and with limited resources, the importance of driving efforts from across all levels of the organization and the pure potential this industry has to be a conduit for change.
The Impact of COVID-19
Prior to March 2020, the three Fhitting Room studio operations drove close to 100% of the company's revenue. The pandemic hit New York City and Fhitting Room's business hard. While Saitowitz had the foresight to launch a virtual business model that provided strong sustainable economics quickly, she reminded us how challenging it was to maintain continuity for her loyal community and incredible staff. She spoke to the incredibly committed, talented and nimble team but also the challenges of moving to a virtual business model (which they continue to develop). Many of the jobs at Fhitting Room, such as studio maintenance, did not translate to her new business strategy and thus team members have worked reduced schedules and/or had to find alternative income streams.
Beyond the financial challenges, racial tensions poised another agonizing sense of heartache for her teams.
"Three months into the pandemic, each day seemed to bring news of another tragic killing of a Black American," Saitowitz told Athletech News. "The blatant inequality and divisiveness in our country – not to mention fear, heartbreak, and a swell of other emotions – hit my team hard."
She added, "Our organization is two-thirds non-white, with almost 60% identifying as Black or Brown. My heart was heavy, so I committed to using Fhitting Room's voice as an amplifier to broadcast a message of anti-racism and ensure we were living up to our core values, one of which was inclusivity – consistently and completely."
From this, the JEDI Working Group emerged.
Building The JEDI Working Group
Fhitting Room lead trainer Carlos Davila explained us his role and the creation of the group, saying, "As DIO I had the capacity to make a very significant impact on the depth of our diversity, equity and inclusion [as well as justice] efforts."
He added, "We had always been at the forefront of HIIT training, but now we had the potential to lead the path within the fitness community when it came to increasing the level of diversity, understanding the nuances associated with inclusion, having a genuine appreciation of the differences between equality and equity, and ensuring that we promote and advocate for justice for all humans."
While Davila explained that they were foremost a fitness company (with amazing programming led by top instructors), it was equally paramount to the organization that they were a space, physically or virtually, where people could feel seen, heard, and appreciated.
For Davila, the greatest learnings have been how much work must be done and admitting that they won't always get it right. He believes Fhitting Room, and the greater fitness community, must make efforts to move the needle towards more inclusive spaces.
"Conversations about the isms or phobias are difficult. But the hurdles shouldn't stop the race…they are simply a part of the process," he said.
While many companies are investing in specific positions that focus on Diversity and Inclusion, not all organizations have the resources to do that. Fhitting Room has demonstrated that it can be done pulling from within.
Saitowitz explained us, "You may be surprised how many people within your organization are committed to change and will lend their time to help make their workplace and the world a better, more equitable and inclusive."
She added, "Demonstrating to your team that you value diversity and inclusion, providing time and space for meetings, giving this group a voice, and committing to implementing some of the group's recommendations carries tremendous value."
An interesting decision was made with the formation of the group. Saitowitz would not be a member. During the inception, she asked her HR Manager and COO (both who are part of the JEDI group) – whether she should join.
"On one hand, I felt strongly about the JEDI values and wanted to be part of the JEDI team work," Saitowitz told us. "On the other hand, I wanted to make sureJEDI sessions were truly safe and productive spaces. Ensuring the latter won my tug of war on the topic."
JEDI in Motion
The JEDI Group has developed an extensive calendar of important events and holidays to recognize and/or celebrate. The group also created content for the blog on JEDI related topics or events, which are often personal reflections called 'From The Heart.' Each month their internal team newsletter features a different JEDI topic that fosters internal education and conversation. Their Black History Month beneFHIT class was just hosted by the JEDI group and raised funds for a community-based organization in NYC that the JEDI group selected. At the end of March, in honor of Women's History Month, one of the JEDI members will be leading a fun Ladies Night event.
Saitowitz explains, "The work of the JEDI group is part education, part celebration and part creating change. I'm looking forward to seeing their plans that will bring our JEDI calendar to life."
For pushing the movement beyond their "four walls," the JEDI Group recently made a huge social media effort promoting the team to the community, creating space for questions and engagement with the JEDI's. Their goal is to ensure that everything that they do has the ethos of JEDI at its core. They want members to see and feel that from all angles. Members have noticed the inclusive language, the curated music, and the multitude of careful changes that the group has strategically made. Members also appreciate the charities that Fhitting Room is partnering with and the ongoing commitment the company has made to helping communities in need.
Davila is measuring the success of the group with qualitative and quantitative feedback. He is utilizing frequent surveys to assess progress and gauge blind spots. "As a researcher, I am aware of the importance of data. Eventually, my hope is to gather data from our consumers to gauge their perceptions regarding the work that we are doing. There are always going to be things that we could do better. The consistent influx of data allows us to better understand the work we have done and the work still left to accomplish."
Looking Forward
Extending the work throughout the industry is the long-term goal of the JEDI Group. While the focus now is making their internal team as representative of the "JEDI ethos" as possible, they believe putting the Fhitting Room team on the "hot seat" and not shying away from diversity metrics and candid conversation are also important. Davila explains, "our goal is always to lead, whether as a HIIT space, as a female led organization, or as a fitness community."
Saitowitz had a similar sentiment regarding the broader fitness community: "This year exposed a lack of coordination and solidarity in the fitness industry, not only when it comes to diversity, but in general. Countless fitness alliances and coalitions have formed in an effort to lobby for relief given how hard hit the fitness industry was by COVID-19."
She believes while progress is being made within the fitness industry there has not been a strong and consistent voice promoting diversity; this is a huge miss considering the important role fitness should play in preventative healthcare for all populations.
When talking about her team, Saitowitz speaks with pure pride.
"My team is the magic behind the brand," she said. "They are talented, committed, nimble, and caring."
She added, "They are also fighters, change agents, healers and just good people, and these characteristics shined like a beacon in a sea of darkness this year. I think we all discovered vulnerabilities in ourselves and in each other. What you see on the outside does not tell you what people are feeling on the inside, but we leaned on each other and stuck together and here we are, still delivering health, heart, and happiness to our growing community."