Calm Announces Former Monk Jay Shetty as Chief Purpose Officer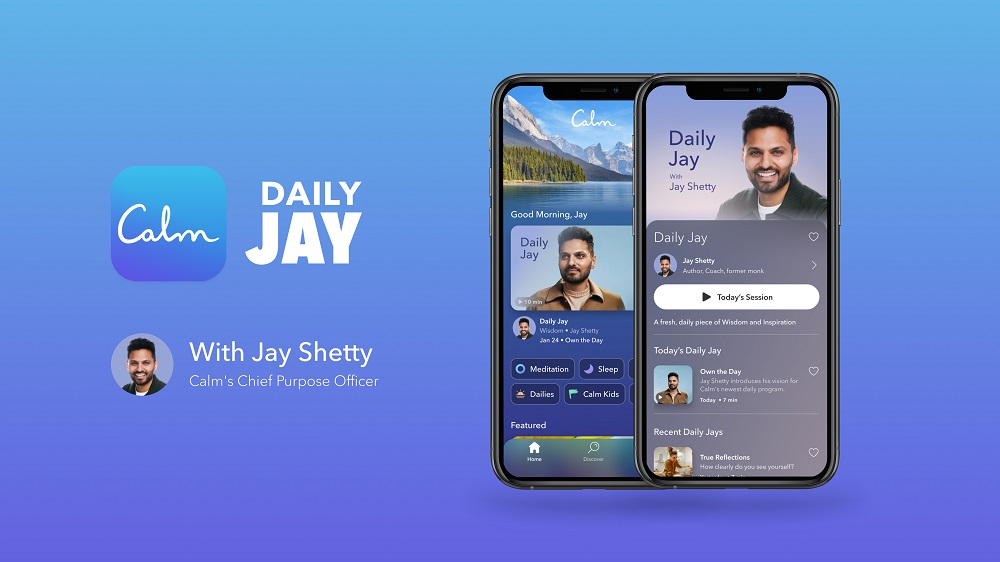 Jay Shetty, New York Times best-selling author and podcaster will assume the new role at Calm
Calm has appointed Jay Shetty as its Chief Purpose Officer, a first-of-its-kind role for the mental wellness company, as Shetty and Calm work to advance the conversation regarding mental health.
According to the American Institute of Stress, 94 percent of American workers reported experiencing workplace stress in 2019.
In his new role, Shetty will be the host of The Daily Jay, his first content series, as well as support Calm for Business and its mission to promote mental health as health. Shetty, a former monk, is the host of "On Purpose," a health and wellness podcast, a purpose coach, a best-selling author, and the co-founder of Sama Tea.
The Daily Jay, which is now available on Calm, provides seven-minute mindfulness sessions as well as "actionable life insight." The content series will concentrate on mindset, habit formation, purpose, and routines, as well as educating listeners on their mental health journey.
"With my new daily series on Calm, I am bringing my meditation, storytelling, wisdom and action into one place for the first time, and it's powerful," said Jay Shetty in a press release. "My hope for The Daily Jay is to rethink how we implement meditation into our daily lives. It's not something you have to do alone in a quiet space. You can take your practice into the busyness of your life, that's the beauty of it."
The Daily Jay complements Calm's popular series, The Daily Calm, hosted by Tamara Levitt.
"The Daily Calm has been listened to over 150 million times by our community," said Greg Justice, Calm's VP of Content. "The daily practice has a profound impact on our members. Our goal with The Daily Jay is to bring a fresh, action-oriented format to our library, helping even more people build a transformative daily mindfulness routine."
In his new role, Shetty will focus on developing content for Calm employees and help move conversations forward about mental health and how it relates to workplace culture.
"43% of full time employees say their job is the main cause of their negative mental health," said Shetty. "This needs to change. Work should be a place where we flourish, not a constant source of stress. Reimagining the relationship between mental health and work, empowering employees to have conversations to eliminate stigmas and shining a light on available resources will be some of my core focus areas as Chief Purpose Officer."
Shetty gave advice on incorporating excitement into everyday work life in an interview with Harper's Bazaar Arabia last year, suggesting starting a new project at work or participating in an extracurricular. He reflected on how, in his corporate role, he started a meditation and mindfulness community, leading sessions on top of his day job because he enjoyed it.
"Jay is an inspiration to millions of people globally," said Michael Acton Smith, Calm co-founder and co-CEO. "He brings a unique perspective to Calm during a critical time, when the need to invest in personal mental health has never been more clear. This marks a significant moment for us in increasing accessibility to mental health resources on a global sca
In addition to Jay Shetty's new role, Calm also recently acquired Ripple Health Group, a healthcare technology company, to help build Calm Health.
Courtney Rehfeldt
Courtney Rehfeldt has worked in the broadcasting media industry since 2007 and has freelanced since 2012. Her work has been featured in Age of Awareness, Times Beacon Record, The New York Times, and she has an upcoming piece in Slate. She studied yoga & meditation under Beryl Bender Birch at The Hard & The Soft Yoga Institute. She enjoys hiking, being outdoors, and is an avid reader. Courtney has a BA in Media & Communications studies.