CEO Corner: SLT's Amanda Freeman & Lynsey Price on Why the Company is Doing Better Than Ever
SLT Founder & CEO Amanda Freeman and Director of Training & Development Lynsey Price spoke to Athletech News about how to bring both consistency and innovativeness to boutique fitness, and why the company is doing better than ever
SLT (Strengthen – Lengthen – Tone) combines cardio, strength training, and challenging elements of Pilates. Founded by Amanda Freeman in 2011, SLT is a self-proclaimed "all-in-one workout" that aims to be smart, efficient, and effective. While SLT's original class included just the Megaformer, a patented exercise machine that offers a total-body workout with lower impact on one's joints, its newest class format combines the Megaformer with treadmill intervals. Athletech News (ATN) spoke with Freeman, who is also the CEO, and Lynsey Price, the Director of Training and Development, about the company's ups and downs and why it's more successful than ever.
ATN: What was your inspiration for founding SLT?
Amanda Freeman: Prior to SLT, I had co-founded a business called Vital Juice. Vital Juice was an email newsletter company that delivered the latest in fitness, nutrition, beauty and wellness to the inboxes of well-conscious women. While doing that, I became immersed in the emerging world of wellness. One of the trends that was just getting started at the time was the idea of boutique fitness. Studios dedicated to offering the best version of one workout all day long, was new and captivating. And while I loved the idea of them, I didn't actually like the workouts that the existing studios in NYC delivered to clients (Primarily spin, barre and yoga studios). I wanted the "Pilates body", but with the experience of a spin studio (instructor-lead, musically driven, group dynamic). At the time, it didn't exist. I found an incredible piece of fitness equipment called the Megaformer on a visit to LA and was immediately hooked. I knew I had to bring the machine and the amazing workout that can be done on it to NYC and beyond and the rest is history.
ATN: How have your goals for SLT evolved throughout the years?
Amanda Freeman: The goals for SLT have remained somewhat consistent throughout the 12 years we've been in business. We remain focused on delivering the most efficient, effective and sustainable results-focused workout possible. While we continue to improve the workout, the studio experience and our customer service on a daily basis, the workout itself is tried and true and the results speak for themselves.
ATN: What has been your biggest challenge with SLT?
Amanda Freeman: I'd say it's a tie between managing through the pandemic and the overall oversight of the SLTeam through the life of the business. Surviving the dark days of COVID was a harrowing experience. The uncertainty and unchartered territory surrounding the pandemic was very difficult to navigate as the CEO of a fitness company that was largely-based in NYC where our studios were mandated shut for a full year. I had to make some heart-wrenching decisions, lead through the unknown, continuously pivot, and rebuild a team that was battered and bruised.
Another (more continuous and less acute) challenge through the years has been building the SLTeam and managing them through the ups and downs up the business. From recruiting instructors to a brand-new concept no one had ever heard of to the integration of teams during an acquisition to a layoff of 96% of our staff and then trying to bring them all back gradually as different markets were able to reopen…it's been a wild ride.
ATN: What has been your biggest success story with SLT?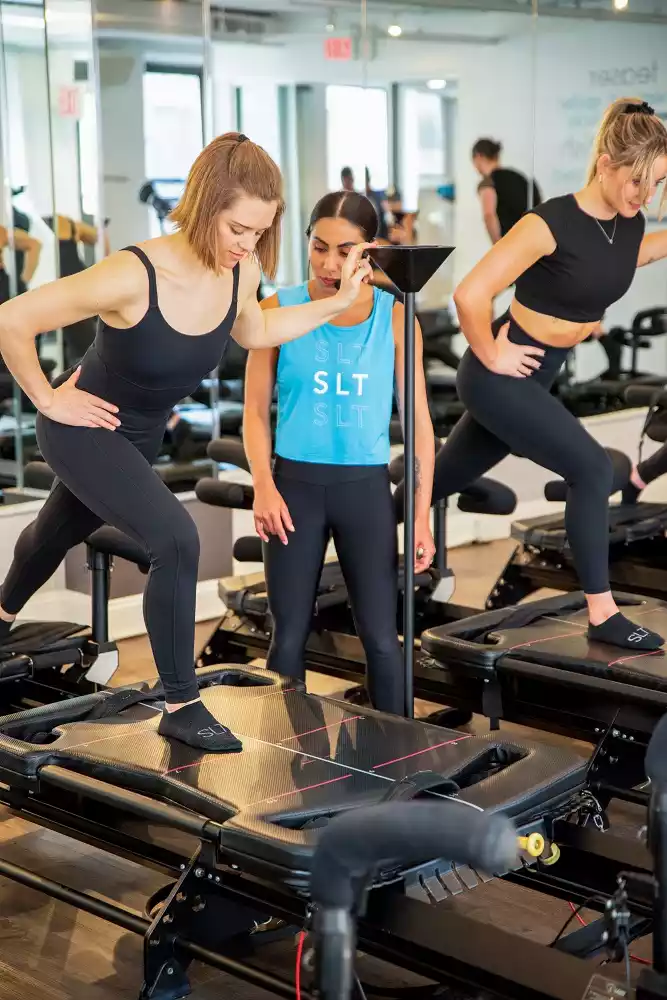 Amanda Freeman: Thankfully, I'd say that surviving COVID is probably our biggest success story. Prior to the pandemic, SLT was a thriving and growing business and then one day it all came to a halt. The minute we had to close all 26 of our studios for an indefinite time, it became clear that we were not well positioned for the pandemic. When the entire fitness industry quickly pivoted to virtual fitness, we couldn't. We had a workout that had to be done in person on the Megaformer. On top of that, all of our studios were located in "blue states" where the regulations were the strictest for the longest amount of time. Not parting with cash and drumming up creative ways to bring in more cash were the keys to our survival. Renegotiating leases was how I spent the majority of my time.
However, once we were allowed to reopen our studios, we were in one of the best possible positions in the industry. We had a workout that no one was able to replicate at home and as a result, clients came right back as soon as they could. We also saw a broader behavior shift away from some of the more high-impact workouts. Clients were now flocking to low impact (yet high intensity and results-driven) workouts like SLT. Overall, our studios are doing even better post-pandemic.
ATN: What makes SLT unique in comparison to competitors?
Amanda Freeman: Over the 12 years we've been in business, the boutique fitness industry has evolved a great deal and our competitive set has changed. In the early days, our differentiation was that we offered a high-intensity version of Pilates that no one had ever tried before. We offered an efficient, effective, high-intensity, low-impact workout that got people the results they were actually seeking out. Clients worked muscles they'd never worked before, and felt sore in ways they had never imagined. Now that the "Betterformer" workout is more commonplace and well known, we pride ourselves on being the smartest option out there. Our instructors go through best-in-class training to offer the most hands on, customizable, sustainable version of the high-intensity Pilates workout.
ATN: Where do you think the industry is headed in the next several years?
Amanda Freeman: I believe that the fitness industry is going to continue to move towards workouts with longevity. Clients are getting smarter about their workouts and avoiding those that are more likely to cause injury and wear and tear on their body. They want to engage in exercise that is sustainable that will help them stay fit as they age. They are also gravitating towards more time efficient workouts. The hour-long workout is giving way to the 30-minute workout. Lastly, the world of recovery and self-care will continue to evolve and thrive in the near future with more social wellness spaces offering everything from assisted stretching to cold plunges to saunas.
Lynsey Price, Director of Training and Development at SLT
ATN: What makes SLT a unique workout?
Lynsey Price: SLT is unique because it is a total body low-impact/high-intensity workout that is accessible to fitness enthusiasts of all levels. SLT's low-impact nature makes it safe and healthy for your joints, while still promoting muscular endurance by leveraging time spent under tension. Not only do our instructors create the most intelligent class programming on the market in our category, but they also create an experience that is tailored to the specific needs of each client. All of SLT's instructors all go through rigorous training that equips them with the appropriate progressions and regressions for all exercises in our vocabulary. At SLT, we aim to strike the perfect balance of accessible and challenging in all of our class offerings.
ATN: What do you think the ideal mix of in-person and digital workouts is for most of your clients?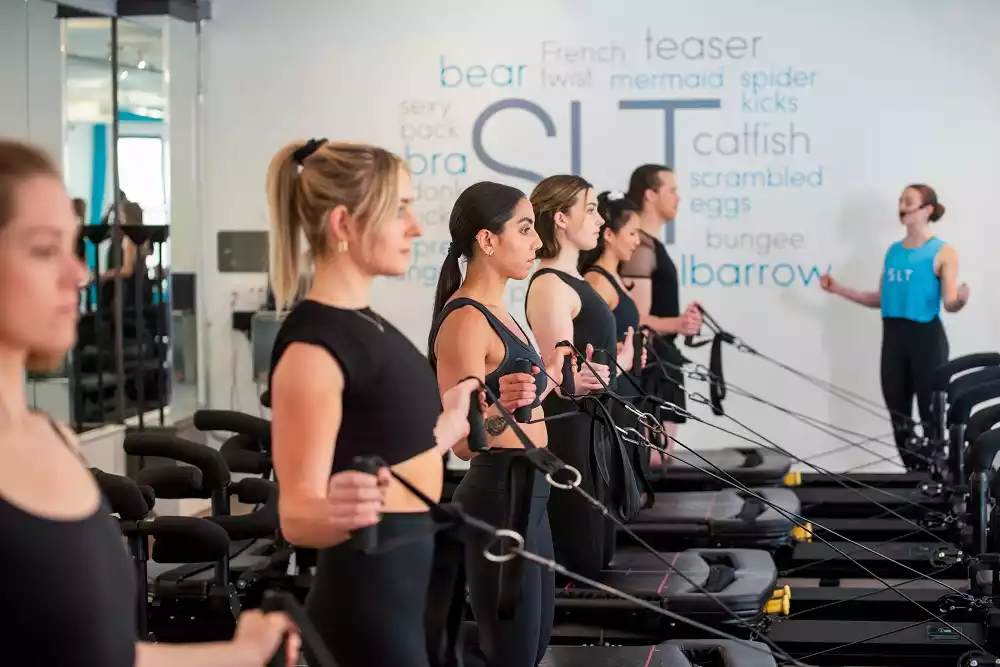 Lynsey Price: When it comes to SLT, our clients crave the in-person class experience above all else. Our workout is unique and is best experienced in-person, in our studios, and on a Megaformer. We have our own online On-Demand platform that provides clients with access to Megaformer, Microformer, and Floor content. Should clients have a Megaformer or a Microformer in their own homes, they can get the closest experience to our studio class environment from the comfort of their own homes. Our Floor content uses props such as sliders, bands, and weights in order to "mimic" Megaformer exercises. As a supplement to SLT, our clients do enjoy participating in other online workouts such as indoor cycling/treadmill, dance fitness, sculpt workouts, strength training, and other low impact work. A lot of our clients mix-in SLT On-Demand and other online offerings 2-3 times a week.
ATN: How do you change up your instructing technique but keep the core aspects of SLT consistent?
Lynsey Price: Over time, SLT has evolved by creating more of an emphasis on the psychological aspect of teaching this method. All of our instructors are trained to use positively-framed, immediately action-oriented language that aims to lessen the cognitive overload that clients can often experience in a Megaformer class setting. Not only that, it creates a positive environment for our clients! When it comes to programming, the vocabulary of Megaformer exercises is constantly growing. We're committed to expanding our movement vocabulary as an inspiration to our instructors, and in an effort to "keep it fresh" for our clients.