2021 Olympics Tech Reshaping Games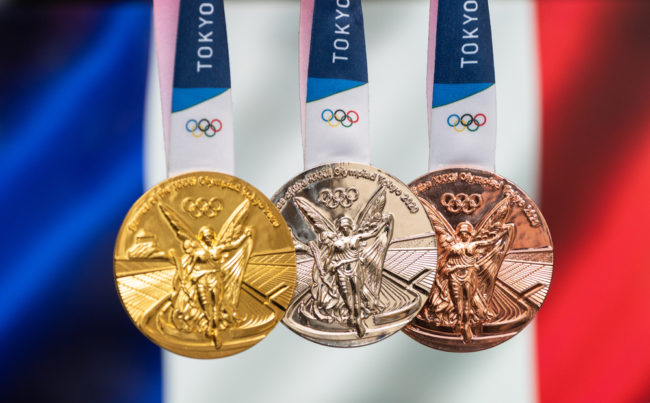 There won't be crowds, but home viewers can expect multi-angle replays, AI-generated information on sprints and real-time bio metrics as Olympic Broadcasting Systems loads up on tech enhancements.
Will the impressive 2021 Olympics tech meet the fate of some of the past Olympic technologies? In February of 2008, swimmer Michael Phelps stood before a crowd at an event in Midtown Manhattan wearing a greyish black bodysuit, "with his arms and legs splayed like Leonardo da Vinci's 'Vitruvian Man,'" in the artful words of a New York Times reporter. He and four others headed to the summer Olympics in Beijing in a few months were introducing Speedo's LZR Racer, designed to compress the body and trap air for buoyancy. At those games, Phelps won a record breaking eight gold medals and several timing records were broken most by swimmers wearing the LZR Racer.
Two years later, FINA, governing body of water sports, banned the LZR Racer, claiming it created an unfair advantage. Though few could deny Phelps and the designers at Speedo were some of the best in the world at what they do, some commenters said those 2008 records had asterisks next to them and used the ugly term "technological doping."
This may be why the Olympics are not an ideal showcase for technological leaps in sports technology, why there are not more of those splashy press conferences leading up to the much-anticipated games, where behemoths of sportswear and tech show off their latest and best designs with athlete stars.
Anything too cutting edge can be problematic. Shortly before the 2021 games, Nike's carbon-plated Vaporflys avoided a ban. Though Nike no doubt lavished the mentions of the shoe's performance, it probably was not the carefully controlled, all-celebration press they crave for such a product.
Still, some news has trickled out of the Tokyo Olympics, the most logically difficult in history, that show how the 2021 Olympics tech is reshaping how athletes are outfitted and trained and even how we watch the games.
The South China Morning Post noted some of the innovations in training, among them the indoor training bicycles at the Hong Kong Sports Institute. Athletes representing the semi-autonomous region are hooked up to more sensors than a surgical patient and have their stamina, exercise intensity and other metrics tested as trainers look for flaws to be hammered out. The trackers worn by swimmers are also now capable of counting strokes. All of this has been helpful, the newspaper notes, as athletes trained alone or with small clusters of people during the COVID-19 pandemic and did not have immediate access to the phalanx of coaches that usually monitor an athlete's performance before the Olympics.
As for tech that arrived in Tokyo with the athletes, China's Anta Sports, outfitter for 28 of the country's Olympic teams, has made a series of bold claims of its specialty clothing. Much of it is self-reported, but Anta says the waist support system of its weightlifting competition suit prevents muscle damage, that the "anti-grab technology" of their outfits for the wrestling team makes them slippery to opponents and their offerings to gymnastics shield them from wind resistance. Anta also produced 3D-printed shoes for China's boxers and leotards for its gymnasts, promising perfect fits.
The prep school-evoking jackets of the American opening ceremony uniforms, designed by Ralph Lauren, carry a unique high-tech facet: personalized and automated temperature control. The jackets monitor the wearer's temperature and activate a battery-powered device in the back, which blasts cold air along the neck. Such solutions are ecologically responsible: Mass adaption of outfits like these could reduce the need for mass cooling, which requires much more power output.
The Indian Olympic Association has the distinction of having an official meditation partner, Dhyana. The homegrown startup is providing Indian athletes with a meditation app tailored for sports competition. The venture is backed by Pullela Gopichand, a former star badminton player who is now chief coach for India's team in that sport. He told India.com, "It's not easy being where the players are right now. As if the pressures associated with the highest level of sports were not enough, fluctuating restrictions around the pandemic imposed in the Olympic Village are bound to further affect morale to a certain extent." It's an innovative solution to athlete mental health in a year that's brought awareness to the issue.
2021 Olympics tech is also changing the way people watch the games, perhaps providing a few enhancements to counteract the effect of competitions without crowds. Olympic Broadcasting Systems is using an array of high-tech 3D cameras that allow cinematic Matrix-like replay of gameplay. Viewers may note that 2- and 3D models of races are more precise as they utilize the latest in computer science.
For sprint events, Olympic Broadcasting Systems is using a combination of artificial intelligence and computer vision to track athletes in real time. Viewers will know when exactly each competitor crossed the finish line or reached their highest speed.
Some sports have allowed for a particular innovation. Archery matches have been covered with biometric data gathered from the competitors' own bodies using contact-less bio sensing. Metrics like heartrate and body temperature are displayed on TV graphics. Sport climbing, which is making its debut this Olympics, will be enhanced using 3D models of the walls, which will help convey the difficulty of a sport where athletes cling to the tiniest crevices.
This data will no doubt be cycled back into training for future events.
Nick Keppler
Nick Keppler is a freelance journalist, writer and editor. He enjoys writing the difficult stories, the ones that make him pore over studies, talk about subjects that make people uncomfortable, and explain concepts that have taken years to develop. Nick has written extensively about psychology, healthcare, and public policy for national publications and for those locally- based in Pittsburgh. In addition to Athletech News, Nick has written for The Washington Post, The Daily Beast, Vice, Slate, Reuters, CityLab, Men's Health, The Gizmodo Media Group, The Financial Times, Mental Floss, The Village Voice and AlterNet. His journalistic heroes include Jon Ronson, Jon Krakauer and Norah Vincent.