Samsung Health and Leading Fitness Brands Team up to Help People Stay Fit at Home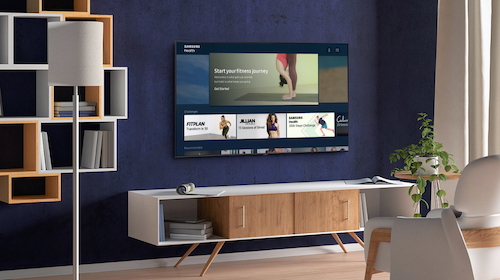 As people around the world continue to spend more time than usual at home, reports suggest that they have not stopped prioritizing their fitness. In a recent study from Global Web Index 85% of global consumers reported undertaking some form of exercise in recent months, with 51% relating that home workouts are their preferred form of exercise.
A March 2020 survey found that 16% of adults in the U.S. were watching an increased number of online exercise videos, in another study 60% of young people in the U.K. said they had been finding exercise helpful in managing their mental health these days.
All across the globe it can be seen that spending more time at home has not robbed people of their passion for staying fit and healthy. Below, we discuss three leading fitness brands whose services Samsung Health has made available through the 2020 Samsung Smart TV platform1 to ensure that consumers are empowered to stay healthy from home now, and into the future.2
Thanks to the fully immersive picture quality of Samsung's 2020 QLED 8K TV range, Samsung Health users can now enjoy a whole new standard of at-home wellness content on vibrant, ultra-large screens.
Calm – Making the World Happier and Healthier
'Calm' is a leading global health and wellness brand whose app ranks number one in the mental fitness category. The Calm app contains an extensive library of mindfulness, meditation and sleep content that Samsung Smart TV consumers receive access to free of charge.
Calm provides a range of meditation programs, music tracks and sleep stories that offer a wide array of durations and difficulty levels. The app's mindfulness programs, for instance, offer a 7-day option for beginners and a 21-day option for advanced users. What's more, Calm's services are delivered to you through the pleasingly familiar voices of Hollywood celebrities including Matthew McConaughey and Stephen Fry and singer Leona Lewis, who have all recorded their voices for the app. Calm Kids content available on Samsung Smart TVs also allows families to get immersed in mindfulness, featuring everything from meditations with Thomas & Friends™ to piano lullabies from Disney classics like Aladdin, Beauty and the Beast, Cinderella, Sleeping Beauty, and Mulan.
Fitplan – Empowering You to Become Your Best Self
Fitplan is a dynamic mobile app that partners with world-class trainers to allow them to share their proven workout methods and empower users. With Fitplan users can identify their ideal physique, and ensure that they are working towards attaining it while also embracing a healthier and fitter future.
Using their Samsung Smart TVs, consumers can get free access to six workout plans and 50 different classes featuring five professional trainers – Melissa Alcantara, Natalie Jill, Brittne Babe, Jana Webb and Cam Speck. Through the Fitplan app users can set weekly goals, keep track of their stats, upload progress photos and add friends to share progress and plan joint workouts. What's more, the app's 'form check' feature helps users ensure that they're performing each exercise properly.
Jillian Michaels – Giving You the Keys to a Healthier Life
Jillian Michaels is a well-known American personal health and fitness expert, author and television personality. The Jillian Michaels Fitness App provides users with access to interactive daily workouts, and additionally offers a premium paid service that provides customized exercise programs in multiple modalities that cater to individuals of all fitness levels.
Currently, Samsung Smart TV users can access a 28-day, curated workout plan, with adjustable beginner, intermediate and advanced levels. For users who are short on time, the app provides brief 7-minute workouts so that consumers can inject a little movement into their days when and where they can.
If anything, staying fit and active has only become more important as people spend increased amounts of time at home. Now, with Samsung Smart TV partnering with leading fitness brands, users can rest assured in the knowledge that a wide array of workout and wellness materials are available at their fingertips.